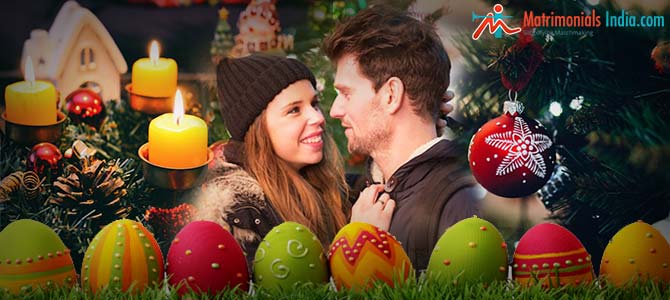 "Christmas, Christmas time is here, time for joys and time for cheers. We can hardly stand the wait, please Christmas, don't be late."

Christmas time is around the corner and we certainly cannot wait to celebrate the festival with pomp and gaiety. While every year the houses are cleaned, lights set, Christmas trees selected and decorations done, here's an exciting plan for the couples to celebrate their Christmas in a different manner this year. This year the couples can step out of their hustling-bustling crazy schedule of the Christmas preparations and try something new. Whether they are just engaged, newly married or completed several milestones in marriage, this Christmas should be all about going the extra mile to add romance in the love life. The five ways discussed below would help you fill your marriage with love and happiness this Christmas and have a merry time with your partner.


Looking For Brides Or Grooms ?
Register here Free and Find Easily
Reminisce The Memories Together :


Christmas is not simply about creating memories but more about reminiscing the good old times spent together. The Christmas times fill people with memories and nostalgia and as a couple, you should make the most of this time and remember all the good times you've spent together.
You can put on different pictures of the old memories, write hand-written letter recollecting the best memories of the past year, go on the regular cafe where you went earlier or simply watch the first movie you saw together and snuggle up together.

Cook The Christmas Meal Together : Everyone would agree that Christmas feast is one of the best meals of the year. To fill your Christmas with love, get into the kitchen and start cooking the Christmas dinner together. Cook up a succulent Christmas dinner together to not only fill your dinner with romance but also add spice to your entire day. Start off with a Christmas appetizer like stuffed mushrooms, meatballs, pretzels, chestnuts etc. Go for a traditional main course like a stuffed turkey, roast goose etc. Don't forget to bake a delectable Christmas cake together to add sweetness to your marriage.
Plan A Christmas Holiday:

Nothing beats the fun of going on holidays for Christmas. As a couple, you can take off from all the work and plan a holiday together. Holidays are the best way to reconnect with each other without any distractions and let the love blossom.
Be it New York, London, Paris or Lapland, choose the location both of you love and head to that place. Plan ahead with your partner in mind and make special arrangements for Christmas to surprise your beloved. This will make your Christmas holidays even more romantic.

Go With The Family Traditions : While many couples decide to make their own traditions on Christmas, there are others who love to follow the same old family traditions every year without fail. This is a great way to look back on the past and realize how the two of you have grown together as a married couple. Whether it is watching a vintage movie, decorating a live Christmas tree, becoming a Santa or going for caroling, cherish the family traditions and follow them on this Christmas Eve together.
Volunteer For Social Work Together :

Christmas is all about spreading love and what better way to spread love and happiness than volunteer for some social work. The satisfaction and happiness that one can get from helping the needy on this pious occasion cannot be compared with anything. Volunteer to help the ones in need and get showered with special blessings on this Christmas.
You can go to an orphanage, old age home or even on the streets with your partner to help the poor and needy on this day. There are various gift programs for kids, special dinner preparations for the poor etc., and you can become a part of these.
Make your Christmas memorable by doing something different this year with your beloved partner. While the list of ways to make Christmas special as a couple is endless, these were the top five ways we feel can fill your Christmas with love, happiness, and obviously romance. We wish this Christmas fill your married life with love, joy, and eternal happiness. Merry Christmas!