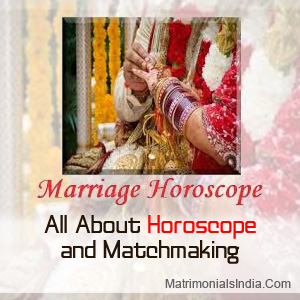 Matchmaking services help in finding the perfect match for a person, by understanding the needs and requirements of different people. These Match Making Services come equipped with Horoscope and kundli matching facilities, to find compatible couples in accordance with their respective star signs and birth charts. Astrology is a major Indian practice, which dominates all spheres of life, especially a marriage. Therefore, Indians find it auspicious and fruitful to marry the person with which they find a match in relation to their astrological and horoscope patterns. Indian matrimony websites render these services customized and tailored to suit each individual.


Looking For Brides Or Grooms ?
Register here Free and Find Easily
Significance of Horoscope in Indian Marriages
: Horoscope matching is an integral part in any Hindu wedding, and the process takes place before the destined meet between prospective bride and groom. The main reason behind this is the belief that matches between the horoscopes would lead to a happy married life. If the number of "gunas" is more than 27 out of 36, the match is considered viable. Online match making services arrange the matching of horoscopes and kundlis, owing to its importance in hindu culture.
Services offered by Matrimonial Websites
Match making services have come out operational to accomplish the needs of people looking to enter the domain of marriage. These websites offer a plethora of services to customers, which are mentioned below :
Search and information gathering- This function includes understanding the religious and social background of a person, procuring information pertaining to their horoscopes, lifestyle, jobs, culture, living condition and the like.
Horoscope and Matching profiles- Filtering searches based on horoscope, match meters, and finding the right match. This service is also known as decision making, as people can look for their prospective partners, by mentioning their pre specified search criteria's.
Interaction Service- This feature allows the man and woman to contact each other via the website and arrange a physical meet. Video chat facility is also available in this kind of service.
Marriage arrangements- Some matrimonial websites undertake the responsibility of arranging for the marriage ceremony on behalf of the client, starting from creation of the event till its culmination.The aforementioned services are sometimes sold as an entire package like BharatMatrimony, a renowned online Match Making service, which helps its client in planning the perfect wedding, taking care of pre and post-wedding ceremony.