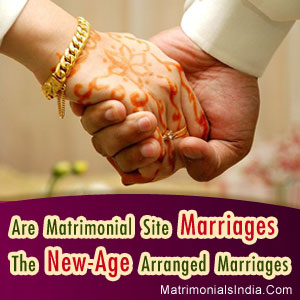 India is a country that has numerous traditional customs and beliefs in terms of Marriages. The average conservative Indian believes in Arranged Marriages in spite of having amorous love affairs. At the end of the day, he/she believes in adhering to his/her parents' wishes while making the final decision. Fast-paced globalization and the dawn of the internet age over the world have left things upside down and Marriages In India are no different. Matrimonial Sites have suddenly enveloped the Indian marriage market and their peculiar characteristic of challenging as well as honoring tradition is certainly the fuel that is making them run and become popular at a fast pace.


Looking For Brides Or Grooms ?
Register here Free and Find Easily
How Are Matrimonial Sites Different?
The new age Indian youth no longer wants to be the puppet of his/her parents and instead wants to take the reins of life into his/her own hands especially in terms of marriage decisions. Matrimonial Sites are providing them that opportunity to meet like-minded people in the internet and challenge those patriarchal notions. At the same time, Indian parents are also resolving to these sites to arrange marriages of their offspring. Somehow, these sites have been able to replace the matchmaker from the Indian society who was the former medium for providing and exchanging marriage related information. Extensive reach and a wide array of bride/groom options to choose from are probably the driving factors in this case.

No Middleman Mess!
Another major reason for the popularity of the Matrimonial Sites is the fact that they have made it possible for direct interaction between the prospective bride and the groom thus reducing a lot of middleman mess involved earlier. The youth like it because it is a kind of acceptance of their independence and free will providing them an increased sense of control over their life while the parents are happy to get rid of the mess and the exorbitant expenses too! In this era of Social Networking Sites, it only seems natural for someone to find his/her life partner over the internet rather than some old matchmaker dictating his/her life. Matrimonial Sites are too coming up with Social Networking Sites like features to attract more users every day.