Balancing Between Work And Marriage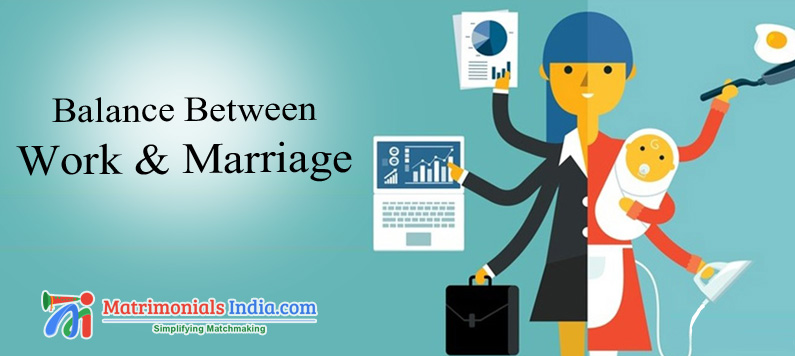 Are you too busy to talk to your spouse? If so, it's the wake-up time! Along with that huge workload, you need to meet the expectations of your companion. Work demands a lot from us but one needs to understand the priorities. It is important to draw a line between your working space and married life. It is well known to everyone that marriage is not that easy and along with work stress, it goes worse if not balanced. While everyone today is busy taking their careers to a higher level, there is something that we all leave behind. Here are some tips to get hold of your scattered and unhappy married life:


Ensure that you do not stick to your laptops, cell phones, and the television once you get back home. Take out time and sit with your companion. Share the events going on at your workplace.
Spend some private moments together; go out for romantic dinners and long walks.
Discuss work-related issues with your spouse. Tell them that their decision is important for you.
Ask your spouse to come along with you if your job asks you to travel. Use every possible trick to spend time with them.
Find some time from your busy working schedule, connect with your spouse and say that you were thinking of them. This will make them feel special.
Remember that no one is perfect, learn to forgive and accept mistakes.
Plan to do something special for your partner. Express your love for them whenever you can.
Do not hold your emotions; express your anger, jealousy or frustration freely. Discuss how things can go better.
Surprise them by getting their favourites home while returning from the office. Their favourite chocolates, ice creams or drinks will make them understand that you care for them.
Take out time from work and plan for a short trip in a month. Go out and spend some time with your partner in a soothing environment.
Both Work and Marriage are essential parts of our life. It is important to work with your partner and bring harmony and peace to the relationship. Try to contribute more by balancing the two. And remember, Understanding is the Key!