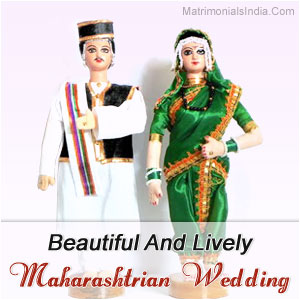 Before the wedding bell rings, you should be well versed with all the rituals that take place in a wedding. When it comes to
Maharashtra Weddings
, they are one of the simplest wedding ceremonies in India. With all the rituals starting from the morning, the wedding is a simple and comparatively less lavish affair. Here is an look at all the rituals that make for a traditional Maharashtrian Wedding.
Looking For Brides Or Grooms ?
Register here Free and Find Easily
Pre-wedding Celebrations :
Sakhar Puda ceremony, casually known as engagement, initiates the wedding rituals wherein the bride is gifted a Saree and sweets by the groom's family. This is followed by Kelvan Ceremony which is a small puja of the kuldevta . Turmeric is applied to both the bride and the groom during the Haldi Ceremony. Following this is the Simant Puja, wherein the groom's feet are washed by the bride's parents when he arrives at her place.
Wedding Bash :
Separated by a silk shawl, Antarpat, the bride and the groom are taken to a place where mangalashtakas are recited. The shawl is removed when they exchange garlands and unbroken rice is showered on them. Both the bride and the groom then ask for their parent's permission and it is called as the Sankalp Ceremony. This is followed by the heartwarming Kanyadaan Ceremony. The groom then ties mangalsutra and applies vermillion to the bride. Followed by the Vivah Homa, is the Saptapadhi ritual, wherein the couple takes seven vows. The wedding is concluded with the Karmasampati ritual in which the bride's father, the bride and the groom appease Gods to bless them.
Post-wedding Commemoration :
The newly wed is welcomed by the groom's mother during the Grihapravesh. With the traditional Arti, the bride is asked to step into the house by knocking down a glass of rice kept at the entrance.
The couple also follows the wedding with a reception in which scrumptious food is served to the guests. Thus the whole Maharashtrian wedding is the simplest yet one of the most traditional wedding ceremonies in India.