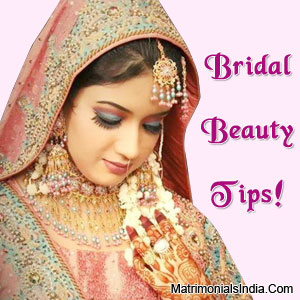 When the marriage of a girl is fixed, her level of anxiety to look her best starts increasing day by day. With the availability of a number of bridal beauty packages, the brides have to avail skin nourishment, hair conditioning, and many other services to enhance their beauty. Although, the natural glow of happiness on brides' faces is incomparable, these bridal packages are highly in demand to add an X factor to their overall look.
Looking For Brides Or Grooms ?
Register here Free and Find Easily
Must-To-Do For A Bride :
Body massages are a must-to-do for every bride. The reason has a lot to do rather than just beautifying your skin. Since it is the most important day of your life, a complete body massage is a great way to prepare for it. This helps in relaxing your body as well as mind. It soothes your senses and calms your mind, so you can refreshingly arrive at your wedding.
Special Hair Care :
Deep conditioning treatments on a monthly basis are highly recommended. Hiring a professional hair expert, apart from your hairstylist, is highly important. A few days before the wedding day, brides should avoid sudden changes to hair, like opting for a new haircut, coloring your hair, etc. Besides this, protecting hair from extremes of temperature is highly essential, because you cannot afford to have damaged hair at such a crucial time.
Smooth Skin Secrets :
Steam facials are extremely beneficial as they clean the dirt trapped in the pores of the skin and release toxins too. It is advised to do the facial well in advance so as to avoid any harsh skin reaction before the wedding day. Facials using ingredients from home, like an egg white mixed with honey, is recommended for its no negative after effects.
If you have intelligently planned for your bridal preparations, you will never end up dealing with stress to look beautiful on the wedding day. By using these tips, you will surely charm everyone with your charismatic beauty and attractive look on your D-day.