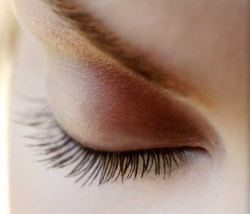 Indian weddings are generally royal and elaborated events in which bride and groom remains the centre of attraction and they both must look their very best, especially the bride. When it comes to bridal make-up for the big day, sometimes brides over do it and unfortunately their most memorable moment turns into something very devastating. It is advisable to choose the experienced make-up artist, because bridal make up is an intricate art, which can not be learned easily. There are certain things to keep in mind, so that you look fresh, vibrant and gorgeous at the time when you are starting a new chapter of your life.
Looking For Brides Or Grooms ?
Register here Free and Find Easily
Preparation :
For achieving fresh, beautiful, glowing and vibrant skin on your big day, start making advance preparations way before the marriage day. First of all ensure that the style and make-up you want is matching your bridal outfit or not, because that matters a lot. The second thing is to take a full test run of your wedding day make up with your dress at least four to six days before the marriage to assure that you get your desired mesmerizing look. Waxing, threading, facial, exfoliation etc. will help the bride in looking her best on that special day. All these activities should take place a week before the marriage in case of avoiding any irritation or side effect.
Choosing Makeup
:
Elaborate, deep and heavy make up has become common for Indian brides, however the trend is changing at fast pace. Try and be a master in the art of complimenting your dress and jewelry with your make up. If your wedding dress and jewelry are heavy, intricate and rich in color then its better to choose light make up so that your entire attire will be in harmony. Embellished eyes looks good with natural shade lipstick and the vice versa for balancing your face. Select make up as per the time of your wedding, for example, if your wedding is in the morning go for neutral and lighter shades and if your wedding is in the evening you can try out deeper and more dramatic make-up. Make sure that your make-up colors compliment your dress and make you look elegant
Make Up Tips on the Wedding Day :
Start with a concealer on blotchy spots or dark circles under the eyes. Foundation matching your skin tone should be applied evenly on face, neck, behind the ears and other visible parts of your skin.
Eye shadow matching the dress of your color with complimenting eye liner, which is not so heavy, suits the best. Use water proof mascara for avoiding running make up.
Use lip liner matching your long-lasting lipstick in double coats and finish it with gloss so that it stays for a longer period.
Prefer bronzer instead of blush and dust your face with a translucent powder for settling the make up.
Keep powder and gloss handy for any necessary touch-ups all through the celebration.
Thus, using these tips not only define your natural beauty but also make you look perfect on the very special occasion of your life time.