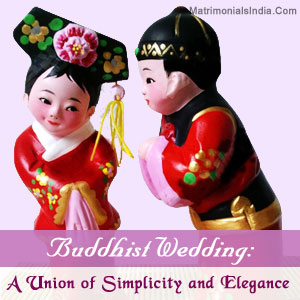 Weddings are a time of joy and happiness. Two people and their families come together as one and take a step towards a bright, promising future. Weddings bring to mind a colorful, loud and bright picture. The music, the well adorned halls, the merry guests, the lavish feasts, the bright lights and in the center of it all, the significant and meaningful wedding rituals. In contrast to this scenario, is the Buddhist wedding which celebrates marriage on the foundation of faith and belief.
Looking For Brides Or Grooms ?
Register here Free and Find Easily
The
Buddhist Wedding
does not include any complicated rituals. The couple can choose if they want to register their marriage in a court or go for a Buddhist temple which is legally licensed as a wedding venue.
Pre Wedding Ceremonies
:
The ceremonies are initiated by a formal proposal by the groom's family to the bride's family who give their consent. The auspicious day is chosen by a monk called Lama. The betrothal ceremony follows wherein the Lama chants prayers and the guests are served a religious beverage called madyan. The propitious day for the weeding is decided.
Wedding Rituals
:
The families of the couple arrive at the temple early in the morning. The groom's family carries trays of fruits, traditional cakes and jewellery. Did you know that the number of trays was either six or nine and never seven or eight as these numbers were considered inauspicious? A pair of candles is lit which signifies the coming together of the two families. The couple and the wedding party recite Vandana, Tisarana and Pancasila hymns before Lord Buddha.
The sacred promises
:
The bride and the groom utter the scared declarations from the Sigilovdda Sutta. The groom undertakes to love and respect his wife and be kind and faithful towards her. The bride undertakes to perform her duties efficiently and responsibly and be faithful and hospitable to her new family.
The recitation of Mangal Sutta and Jayamangala Gatha concludes the ceremony and the newlyweds enter a blissful life under the protective cloud of the blessings showered upon them.