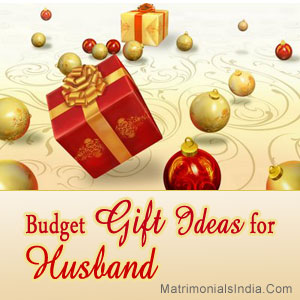 Your spouse has an upcoming birthday, but you are running on a tight budget & are worried about what to do? Well, you need not worry any more, as this write up will give you an insight on some unique gifting ideas which will hardly cost you any money.
Looking For Brides Or Grooms ?
Register here Free and Find Easily
Free Gifting Ideas For Your Husband :
Plan A Perfect Weekend For Him : This gifting idea is surely going to be a hit with all husbands; after all it is not every day that their wives pamper them. For his birthday, you can plan the weekend such that it is filled up with his favorite pastimes, any activity he loves to indulge in. This may be a weekend camping trip, or a movie marathon. You can rent his favorite movie CDs or ones he has been dying to watch, & spend the evening with him. Another idea is to make a CD of his favorite songs, & make him dance with you.
Make Something Special : It could be his favorite dish, or you could lay out a complete course which includes all his favorite dishes. If your husband is not a foodie, then try other alternatives like - you could maybe knit a sweater or cap for him, of his favorite color. If you are a creative person, you could write a romantic poem for him.
Go For A Picnic : If he loves walking, you could accompany him on an early morning walk & enjoy the pleasure of watching a beautiful sunrise together. If you live near the sea, then what could be a more romantic setting for your picnic date?
Be His Personal Masseur For The Day : What can be a more sensual & romantic birthday gift than giving him a full body massage. Do some research & learn the basics of giving a good body massage, if you don't know how to. The massage could be a prelude to the even more sensual night yet to come.
These are just a few ideas of what to gift your husband for his birthday, without putting a serious dent in your budget. The best thing about these gifts is that they hardly require you to spend any money at all. All you need is a little bit of creativity & sky is the limit, as far as memorable gifts are concerned.