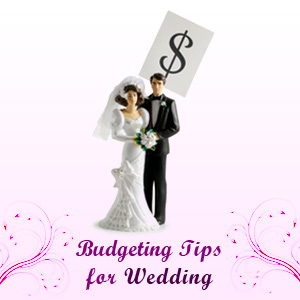 Marriage unites two individuals and heralds the beginning of a new and joyous phase in the life of a couple. But the delights of a wedding ceremony can only be enjoyed if one is not concerned over the payment of the bills incurred regarding the various events and aspects associated with the ceremony.

A precise and detailed budget decides the various aspects associated with planning your dream wedding, ranging from your choice of venue to type of entertainment you decide to have. It is often seen that many couples struggle to stay within their wedding budget and often end up with more expenditure than they originally anticipated. So if you have decided to tie the knot, then these tips can help you prepare a budget and control costs so that you can stay within the limits and enjoy this phase.

Budget Planning Sheet : This can help you to identify and itemize costs for each element of your wedding. These sheets can be downloaded for free from wedding directory websites or you can find a blank planner in a wedding magazine. Usually designed generic to an average wedding, you may need to edit them to suit the wedding you are planning.

Set Your Priorities Right : Prioritize the essentials of your wedding day in order of importance. This will ensure that your budget is allocated to the most important bits first, such as the ceremony and reception venue rather than on matters of lesser significant like fireworks display etc.

Make Separate Bank Account : Create a separate bank account for your wedding budget. This will ensure that these savings don't get mixed up with everyday living expenses. Look out for a savings scheme with a high rate of interest that multiplies your money to certain extent. Extra money is always welcome at this point.

Curb Your Expenses : In case, you do overspend on something; make sure you reallocate money from other areas to make up for the difference. This may mean compromising on other significant aspects of the ceremony but in the long run, it will prove better than overstepping your budget. To curb the flow of money you can do certain things yourself, such as lending a hand in decoration etc. You should also engage in rigorous negotiation with vendors and suppliers over prices & packages of items that are bought in bulk quantities. This often helps in making big savings with very little effort.

Avoid Taking Loans : Lastly, avoid borrowing extra money in the form of a bank loan to fund your wedding day. Loans prove to be very expensive and you don't want to begin your married life knee deep in debt.

Hence, new couples who are on the verge of commitment by entering holy matrimony should adopt the above mentioned techniques. By systematically budgeting for this joyous occasion and spending accordingly, one can surely make the right beginning.