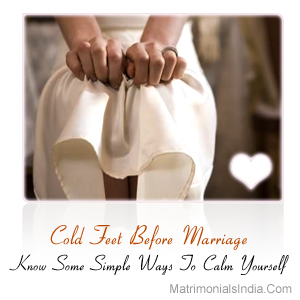 As the day of the nuptials fast approaches, it is very common for the
brides and grooms
to feel jittery and nervous. This is an indication of the age old condition called Cold feet. Remind yourself that what you are feeling is quite normal and everyone has gone through it at the time of their marriage. Take a break from all the wedding preparations and relax for a while. The feeling of Cold Feet is just a way of your mind telling you about the big change that is going to happen in your life. There are many ways to overcome this feeling. It is very important that you deal with this issue and not dismiss it off casually. Analyze what you are feeling in detail. Is the nervousness about the marriage or the marriage preparations? If the answer is marriage, remind yourself that you are in a loving relationship with someone who you care about and who cares about you. Talk to your partner or friends about your feelings. There are many ways which can help you overcome the case of cold feet. Other things you can do are :
Think about the good things associated with marriage and life after marriage.
Write your fears on a piece of paper and read them to yourself. You will find that most of the fears are baseless which will help you calm yourself down.
Take a break from the wedding preparations and go out with friends.
It would be wise to talk to other married couples and their experiences after marriage.
You can even take professional help from therapists and counselors who can allay your fears and nervousness. They are experienced in such cases and may suggest techniques that may help you relax.
Think about the happy moments of your relationship like the first date, the time you spent together, about the proposal etc.
Looking For Brides Or Grooms ?
Register here Free and Find Easily
In case your partner is the one with the jitters, it is important that you have open talks and share the fears. Marriage is a joyful occasion and a cool head with clarity in mind will ensure that you stay carefree on the wedding day.