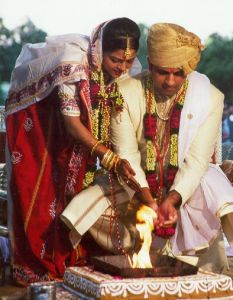 The custom of marriage is believed to be the most sacred in the Indian society. The institution of marriage binds men and women together for the rest of their lives. Marriage also provides social permission to the couple to have sexual relationship and have children. Being a religious sacrament, marriage in India is obligatory to the Dwijas.
Looking For Brides Or Grooms ?
Register here Free and Find Easily
According to the Hindu law, marriage is also a civil contract and is essential for every Hindu for repaying their social and parental debts. Marriage has always been a holy union in Hindu religion and is also necessary for salvation and performing religious duties. Hindu marriage is a pious institution and don't dissolve even after the death of one of the partner.
In
Hindu religion
, marriage is among the most important Sanskaras or Hindu Sacraments that a person needs to perform during the lifetime. Marriage is taken as a sacred duty, which every Hindu has to perform. Getting your children married after the age of puberty becomes a moral responsibility of the parents.
The Vedas state that the couple should experience dharma together and should also sit aside in every religious ceremony. Any pooja or yajna is not complete until the couple sits together and worships their deity. A man cannot enter Grihastashram without marriage. Once a man enters Grihastashram through the institution of marriage, he is liable to attain full development in life. In Hindu marriages, Dharma comes first while sex has given secondary importance.
The major forms of Hindu marriage include :Polyandry
:
This form of marriage states that one wife is regarded as the wife of all the brothers. It also gives all of them complete right of having sexual relation with her. Although, the custom is ancient but is still prevalent among the Todas.
Polygamy :
As per this system, one man can have more than two wives at a time. Polygamy is very much popular among the Muslims in the country. Rajas in Hindu culture have also followed this system in ancient days. However, later on polygamy was considered a crime under the Hindu Marriage Act, 1955.
Monogamy
:
Monogamy refers to one man one wife system, which is a main custom of Indian marriage. This system involves high affection, devotion and sincerity among the couple. Children are also given proper attention under this custom.
Companionate Marriage
:
This system doesn't exist now and it involves two persons who get married on the basis of mutual understanding. This type of marriage can be dissolved with mutual consent if there are no children.
Experimental Marriage
:
In this form of marriage, both the partners first find out the compatibility with each other before settling down in a relation.
All this gives a clear idea about the custom of
Indian marriage
and also make you understand how sacred this institution is. However, the customs have changed from time to time, but their essence and meaning is still the same.