Find Your Perfect Punjabi Match On A Matrimonial Website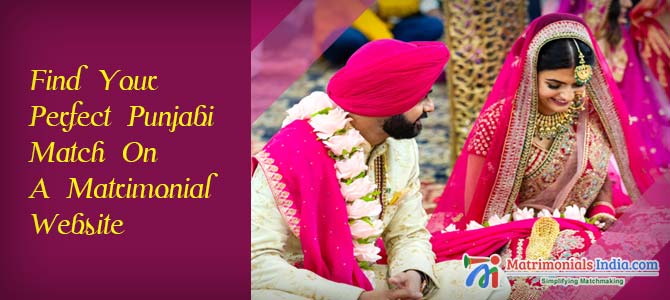 Are you a Sikh - Ramgharia boy looking for prospective Punjabi brides? Or a Punjabi Khatri girl in search of a potential life partner? The Punjabi Matrimonial Websites are, certainly, meant for you! Today, there are numerous Matrimonial Websites that offer dedicated online matrimonial services that can help you in finding your potential partner online. So whether you are from India or an NRI from the UK, US, Australia or any other country, you can find your perfect Punjabi match just with a simple click of a mouse. So here are a few tips that will surely assist your search of a compatible life partner :
Indulge In A Categorized Search: Matrimonial Websites enable the registered users to put and search information in a categorized form. Most of the websites have proper bifurcations like Search By Religion', Search By Community', Search By Country' and so on. This feature will help you to find the best match as you can click particularly on the specific column according to your requirements. For instance, if you are looking for a Punjabi Ramgaria girl or a Punjabi Arora boy, you just have to click the corresponding option that will direct you to the matrimonial page of that particular community. Likewise, this feature enables others to find your profile conveniently and quickly.
Keep An Up-To-Date Profile: If you are making a profile on a matrimonial website and are serious about finding your perfect Punjabi match through it, then you have to update it regularly! There is a possibility that the individuals interested in you, might be observing you. When you update your profile properly and regularly, it simply gives an idea that you are a socially active person and believe in a serious and long-term relationship. For instance, if you are a Punjabi Arora boy who has just shifted from India to the US, then you must update this piece of information in your profile.
Post Your Best & Latest Photos: A picture speaks a thousand words! Doesn't matter how well-polished your profile is, yet it is incomplete without a couple of your best and latest photographs. The pictures that you put must be a mixture of close-ups as well as full lengths. A clear idea about how you look will, certainly, take you a step closer to your potential life partner. Similarly, you might like someone's appearance in the photos and consider them to be suitable for you.
Thus, with the above-mentioned guidelines, your profile would surely flood with many requests and if everything goes well, you might end up finding the love of your life on one of these Matrimonial Websites!