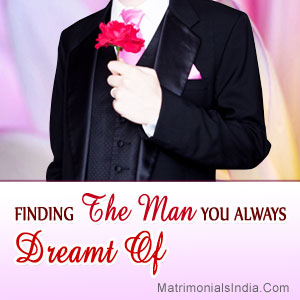 Have your parents finally started pressurizing you to tie the knot but you still have not found the man of your dreams? Well, this situation comes in the life of many, but one thing that must be kept in mind is that relationships are never made in a jiffy and it is never sensible to get married just for the sake of being married.
Marriage
is simply the relation between two persons who may or may not think alike. Nonetheless, as they say that opposites attract each other, better companionship can be expected with the man of dissimilar mindset too. What is important is to carefully find the right man.
You don't need to make strategies to find the man you dream of and even if you plan to do so, you will never go according to it. The first simple thing that you need to do is to figure out what you exactly are looking for in a man and then start acquiring those traits.
Looking For Brides Or Grooms ?
Register here Free and Find Easily
Having the qualities that you wish to see in the man you are looking for is always the best way of attracting the right man. If you wish to marry a trustworthy man, you first need to be a trustworthy woman. Similarly, if you wish to marry a caring man, then you must become a caring woman first. The approach is very simple and practical making it quite easy to choose the right man.
Never rush into a
relationship
just for the sake of it. It will never work. Take enough of the time to grow a strong friendship first ahead of moving to next level. Developing a strong friendship will make it possible for both of you to trust each other and have open communication. This will definitely give a good start to a healthy relationship.
Get to know each other thoroughly and step by step. Don't start enjoying the feeling of being in love too soon. Never try to hurry love, be passionate but not blind, always take enough time, and if you still find that the relationship does not seem to work, back off.
There is no point in settling down with a mediocre relationship. Speak your mind if you find something irksome. In any case, you deserve a man who can make you smile in every saddest time.