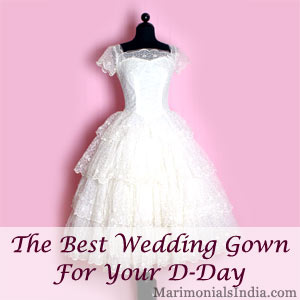 Getting married is a dream come true for every girl. Since childhood only, every girl aspires of getting dressed in a wedding gown and walking down the aisle to get married. Besides, the only matter of concern for the bride-to-be is, selecting a wedding gown that allows her to display her charm as well as instills confidence from within. The preliminary decision of choosing an ideal wedding gown without any stress rests upon the following factors :
Bride's Skin Color : The visual appeal of the gown majorly depends upon the skin color of the bride. A bride having lighter skin complexion definitely has, a multitude of options for choosing a wedding gown. White as well as vibrant colors give a sharper appearance to a fairer bride. On the other hand, bride having darker complexion should preferably get some make-up done before trying out the wedding gown. This will help her in knowing the final outcome of the gown on wedding day with make-up. A bride should not only apply make-up on her face, but also on her shoulders as well as forearms to look gorgeous.
Bride's Body Shape : Body shape is the major determinant of the final outcome of the wedding gown on a bride. Girls have different body shapes; some are taller, some are shorter, some are lean while some are hefty. While considering any gown, first know your body shape whether you have a heavier lower body or leaner legs, etc. You must know what is good and what is bad about your body. Once you have determined what your body shape is, you should start your search. Know which gown will accentuate your personality and bring out the best in you. But whatever the body shape of the bride is, a bride having smile on her face looks the most beautiful in the world.
Estimated Budget : Determine your budget and as per the same, see if you could afford a designer or a tailor. Even if you are low on your budget, a perfectly fit and neatly tailored gown would exude brilliance, besides making you look like a princess. If money is not a matter of concern, then obviously you can go for a designer gown. You should also lookout for different wedding gowns and choose the best one for you. Besides, if time constraint is a problem then you can also go for shopping of a wedding gown online.
Some Of The Popular Styles Of Wedding Gown That You May Consider
Off-the-shoulder
Strapless
Sweetheart
Spaghetti strap
Tank
Cap sleeve
V-neckline
After reading the blog, you must have got an idea of how and what exactly you should look out for, while selecting a wedding gown. Also, look your best as it is your day and make the on-lookers spellbound.