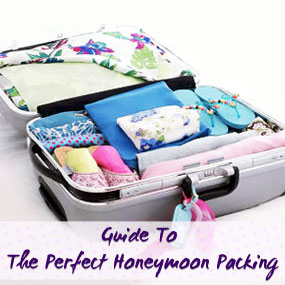 A honeymoon is not just a holiday; it's a part of your married life that leaves an indelible mark on your heart. It's the start of your journey together as a married couple but if you are a second or third time honeymooner, then it adds that extra spice in the marital bliss. Once you have chosen the destination and are raring to go, you need to get the packing done the smart way to fully enjoy your vacation. You must have some idea on packing after reading about it in different magazines and articles but we give you simple, smart and often ignored trips that make for a successful honeymoon packing.

Pack Light And Smart
Of course you will be packing as per your location but there are still some basic things that you cannot afford to overlook.
For the clothes : Roll up the casual ones to save space and keep heavier things at the bottom.
For the Camera : Carry extra batteries, charger and memory cards. Alternatively you need to have extra film rolls.
For the Toiletries : Have double packing for them and keep them away from items that can get seriously damaged if the containers leak.
For the important Documents : Keep them safely in a separate bag. Prepare a checklist and carry it with you to ensure that you have all the travel documents, cards, identity cards, money etc.
For the Medical kit : Keep instant relief sprays, band-aids and medicines for cold, diarrhea and painkillers at hand.
Some Do's and Don'ts
Make a list as soon as possible in a categorized manner to ensure that you are not running to buy them while on your honeymoon.
Wear artificial jewelry for the purpose of security and comfort.
Carry light bags that are tagged clearly with your name and address.
Have the contact information of people who can be contacted in case of an emergency
Do not carry extra items unnecessarily, call the hotel you will be staying at beforehand and confirm what enmities they have like, iron, hair dryer etc.
Do not overstuff the luggage. You might have to pay extra fee to the airlines.

While it is easy to dream on about the interesting sights and sounds that await you on your vacation; packing for your honeymoon needs a little planning that brings you even closer. And we are sure that with these tips at your hand, you can truly enjoy a stress-free, romantic Honeymoon with your loved one.