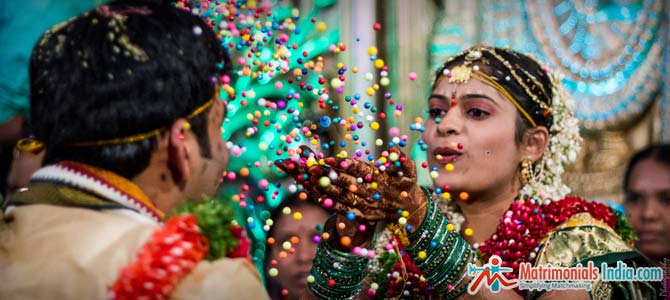 A Nair wedding is a simple wedding having a complete
traditional Hindu wedding
essence. Generally, a Nair wedding is conducted in a nearby temple or a Kalayana Mantapa. Guruvayur Temple in Punnathur Kotta is considered to be a very auspicious location. The
Nair Wedding
Ceremony can be easily understood in its two phases i.e. the pre-wedding phase and post wedding phase.
Looking For Brides Or Grooms ?
Register here Free and Find Easily
In the pre-wedding period, the groom is chosen and the elders of both the families decide about the engagement known as "Nischayam". An astrologer helps in deciding an auspicious date called "Muhurtham" after which a function is arranged for this announcement of marriage and the wedding rings are exchanged.
One day before the wedding, a function called Ayana (Prenuptial blessing of the bride) is organized at the house of the bride where she takes the blessings of her elders and relatives. A similar function is organized at the Groom's house. On the big day, the marriage ceremony is conducted in a simple way either in the temple or in the Kalyana Mantapa of the wedding hall. The bride is escorted by her aunt to the mantapam, and sits next to the groom, amidst the special music of the 'nadaswaram' and the 'thakil'. Talikettu ritual is performed during this ceremony in which the groom ties the 'Mangalsutra' or 'tali' around the neck of the bride to the beating of the drums.
Another important ritual during the wedding is Pudamuri, where the Groom gifts the Bride a sari and a blouse which conveys that he will now assume the responsibility of providing for her all throughout her life. The Bride is supposed to wear this sari and blouse on her arrival at the Groom's house for the first time after the wedding. The guests are given a delicious treat and the traditional feast called Sadhya includes rice, three varieties of pickle, sambhar, toran, payasam, curries and sweets, avial, pacchadi, olan, kalan, and pappads served on plantain leaves.
Post wedding, the bridegroom takes his wife with his parents and family members to his house. This ceremony is called Kudivepu or Gruhapravesha. The bride is welcomed to her husband's house by performing 'aarthi' with a typical Kerala metal lamp. The newly wedded couple enters the house with right foot forward where the bride kicks over a large measure of rice. The couple then leads a happy and prosperous married life with blessings of their elders.