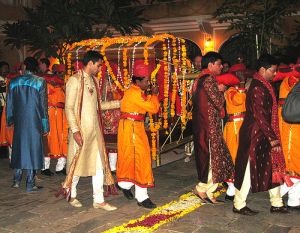 Wedding is an auspicious day in the life of all. This sacrosanct bond ties together a boy and a girl in a strong and never-ending relationship. In India especially in the Hindu culture the institution of marriage holds a firm and superior place. Marriage means not only union of two bodies but two souls for seven lives. The
Hindu marriage
ceremonies are vast and are celebrated for days together in great spirits.
Looking For Brides Or Grooms ?
Register here Free and Find Easily
The different ceremonies that take place during a Hindu Wedding
Largely the ceremonies are divided into pre-marriage, wedding day and post-marriage ceremonies. Each of these ceremonies has their own individualistic importance. Vidaai ceremony is one of the most important post-marriage ceremonies.
Significance of Vidaai Ceremony
This ceremony takes place towards the end of the marriage; it marks the end of celebrations especially for the bride's family. This is the most emotional moment during the whole wedding procession.This ceremony means the departure of the bride from her father's house. It symbolizes both happiness and sadness on the part of the bride: happiness as she is stepping into a new sphere of life and sadness because she leaves the home and people with whom she has been living all her life.
The members of the bride's family, her relatives and friends all become sentimental, shed tears and at the same time bestow their blessings for her blissful future. The father according to this ceremony finally gives away his loving daughter to the bridegroom and prays for her protection. The bride during this ceremony has mixed feelings and the sense of parting from her parents brings tears to her eyes. She hugs all her near ones. Also, the bride has to throw away few handful of rice at her back. This signifies that she is returning what she has taken from her parents and also she wishes that her parent's home should flourish. The newly wedded couple seeks blessings of the elders by touching their feet.
In the last stage of the Vidaai, the couple sits in the car that is pushed by the bride's brothers. This signifies her stride into her new life. In most of the marriages brother of the bride goes along with her sister as a support to her.
The moments of this ceremony touches the heart of everyone present there even the groom's family members. At the end of this ceremony the bride moves into her new life leaving behind her family and friends.