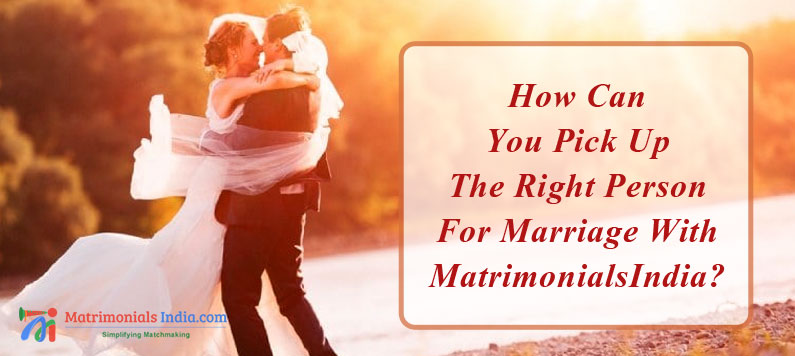 Looking for a life partner always makes people need clarification. They need to learn how to start searching for the right one. If you are wondering whether it would be your right decision to marry, you need to assess your inner self. Many wedding couples are less happy than normal single people. While many bachelor people are much more comfortable than the average wedding couple. Happy, successful, and long-lasting marriages are created by supportive and happy wedding couples. They have realistic expectations and clear goals for their future life as one. Let the
matrimonial services help you find the right person
for marriage:
You must be required to decide whether the other person's background, nature, education, etc.. suit yours. This is making married life a joyful experience. In turn, many others are associated with them in one way or the other.
How do matrimonial services help find the perfect life partner?
Suppose you are an Indian looking for someone from your country. In that case, several matrimonial websites will provide you with reliable, authentic information. This is how they will help you find what exactly you are looking for.
Easy to follow the process:
• Here you can register or post a matrimonial profile free of cost.

• It will provide them with information about your biodata, occupation, education, hobbies, outlook, families, residence, etc.

• There are simple and user-friendly environments with easy-to-use apps through which you can narrow your search.

• By choosing the age, religion, caste, mother tongue, etc., and their respective photographs.

• Just one profile will help you meet your potential future spouse within your community or outside.
100% privacy assured
A reliable and secure Indian matrimony website provides its members with 100% privacy and security, making matchmaking a delightful experience. A dedicated, tech-savvy, and enthusiastic team is involved in making these Indian matrimonials so popular.
Comprehensive experts assistance
They do full-proof research along with their knowledge. They have expertise in the latest state-of-the-art technologies that help people enjoy these services' benefits in the
Indian matrimonial
.
Round-the-clock helplines
All the matrimonial services are marked by the utmost courtesy, the warmth of spirit, and a genuine desire to help. They offer superior customer service with a guarantee of customer satisfaction. It is evident by the presence of 24x7 helplines and other useful contact details. Relevant matches are always ensured on any Indian matrimony website, highlighting the high demands for these matrimonials in India.

Offers an appealing Money back guarantee
Some websites have excellent track records, so much so that they often promise people a 100% money-back offer. This is valid when at least 1 member has yet to communicate with the members expressing interest. Matrimonials India expects you to provide clearly stated information about yourself so that interested members can respond to you.
Addition matrimonial services
You can post a matrimonial profile free on their website while others charge some money. Payment can be made online, also. Once you make a profile, you can contact another member, view their biodata, chat with them, share photos, horoscopes, etc., knowing that these contact details have been verified and the profiles are authentic.
Flexibility with packages
There are different packages, and you can decide which community to choose from in the Indian matrimonial. Various packages of different prices and services are available; details about them can be found on the respective websites. If you go with a paid package, you get additional benefits.
Matrimonial services offered by MatrimonialsIndia are there to assist you with the path of finding the perfect life partner. With complete flexibility and additional benefits, you get the chance to
build relationships
.
Learning whether you are marrying the right partner or not can go a long way. This will help in making a good decision about marriage and your future life.

Here are some factors to consider to understand that you are marrying the right person:
Understanding
If you favor an arranged marriage, it is impossible to know everything about a person in a few days. No one can judge or decide about anyone in just a few meetings. But it is suggested to know as much as possible about that person. Ask about their likes and dislikes, nature queries, common habits, and daily routine. This may somehow give you an idea about the person's conduct. Also, try to judge the behavior of the person in public and with the younger ones. If the person you are willing to marry cares for younger and respects elders, there resides a golden heart within.
Dependency
Well, you cannot rely on someone completely. But in a relationship, it is possible in some ways. Dependency suggests compatibility, and relying on other people helps in building trust. If you want to confirm whether you can rely on another selected person or not, do not hesitate to ask some questions. Ask if you can go outside with your wish or come home late. Can you both depend on each other to care enough for your best and manage household chores equally? Can you depend on them to express your feelings and every little thing in your life? Is he or she truly the person they can ask for any support?
Trust
You cannot build any relationship without trust with anyone whether known or unknown. A
relationship stands strong on the foundation of trust
. You may know there are some good and bad traits in every human. Hence, the person you have selected for marriage should be trustworthy enough not to use your faults against you. The person must be smart and reliable enough to hide her faults and family matters from others.
Inner qualities
Your inner qualities are as essential as your outer qualities. Sometimes people would be attracted to you because of your outer qualities like beauty, physique, and other perfections. But if they do not find the inner qualities they want, they would leave you. You must become what you want on the inside and outside. It is your outer qualities that attract men to you, but it's your inner qualities that would keep them to you.

Not just these factors, but commitment is what you must consider before getting involved in the matrimony with the selected person. Before making the final commitment of marriage, take the commitment of meeting each other regularly. After understanding each other, the wedding couple must enter the pre-engagement phase.

Now that you know the factors to decide the right person for marriage. It is time to start marriage planning. It is suggested to find one of the best matrimonial websites online. compare the features and benefits offered by any website.