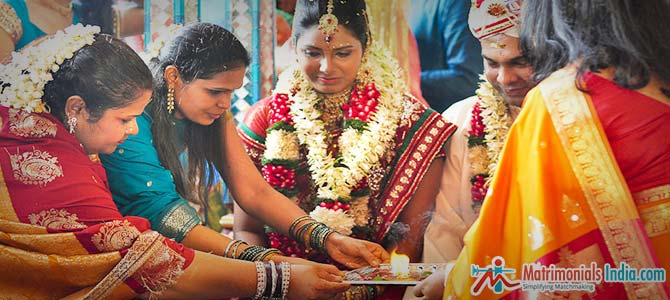 Representing a large number of South Indian communities, Tamil people are known for their fondness for a simple living however if you get to witness a Tamil Marriage you can see their enthusiasm for making this event grand and vivacious. A Tamil Matrimony is followed many interesting rituals by families of
Tamil Bride and Tamil Groom
. In north India too, weddings are a grand affair and people blow a huge amount on making it memorable but in Tami Wedding, a lot of age-old rituals are meticulously performed which makes it totally unforgettable.
Timing of Tamil Wedding
In north India, weddings are majorly evening and night affair whereas in Tamil Community marriages are perfumed early morning. Tamil people diligently follow the ritual of conducting a Tamil marriage at the specified time as calculated by their priest. At the crack of dawn, the Tamil bride, as well as the Tamil groom's family, performs the MangalaSnanam ritual at their homes and after purifying their body in holy water, they proceed for the wedding ceremony.
Rituals of Tamil Wedding
Wedding rituals differ in different communities, but the saga of rituals is unparallel when it comes to South Indian wedding. In South Indian weddings, there are many pre-wedding rituals preformed like NakshatraPorutham, Panda Kaal Muhurtham, Sumangali Prarthanai, Pallikal Thellichal, Vrutham, Naandi Shraddham, Nishchayathram and Lagna Pathirikai etc. On wedding day again a number of rituals performed like MangalaSnanam, Gauri Puja, Kashi Yathra, Pada Puja, MaalaiMaatral, Oonjal, Kanyadanam, Muhurtham & Saptapadi etc. After marriage again a number of rituals are performed by the Tamil Groom and Tamil Bride which are
Sammandhi, Maryathai, Paaladaanam, Grihapravesham, Valeyadal and Maruvidu Varudal etc
. In other communities too, wedding rituals are performed but they are neither so elaborated nor as many as in a Tamil Wedding.
The dress of Tamil Bride and Tamil Groom
The wedding attire of the bride and groom during the ceremony is very different from that of any other culture or religion. A Tamil groom wears a tow-price garment called the Veshti (dhoti or lungi worn on the lower part of the body) and Angavastram (silk scarf draped around the neck) made preferably from silk or puttu. The groom also wears a Thalaip (turban) on the head along with a gold chain and clip-on golf earring.
The Tamil bride is an epitome of beauty and elegance. Unlike other brides in heavy red/maroon lehangas, the brides in Tamil matrimonial ceremony wear stunning Kanjeevaram sarees in bright hues. They accessorize the attire with heavy gold jewelry around their neck, waist, arms, wrist, head etc. Brahmin Tamil brides wear 9-yard long sarees while non-Brahmin Tamil brides wear 6-yard long sarees. Her hair is tied in gorgeous bun and plaid and accessorized with fragrant and beautiful gajra.
Food At Tamil Wedding
While other weddings have an elaborate menu, Tamil weddings have the best of South Indian cuisine. From different types of rice like coconut rice, tomato rice, tamarind rice, lemon rice etc., to the popular South Indian dishes like Idli, Dosa, Rasam etc., Tamil wedding has a very sumptuous menu. Other dishes included in a Tamil matrimony are Kootu, kuzhambu, Korma, and Pongal. To finish off the meal, there is the sweet dessert payasam.
Looking For Brides Or Grooms ?
Register here Free and Find Easily
The joy of a Tamil marriage is unparallel. The journey started with registering on a
Tamil Matrimonial
portal to find the bride or groom, followed by Tamil Matchmaking and loads of fun-filled ceremonies is a delight to witness. If you have also enjoyed participating in a Tamil wedding, share your experiences in the comment section.