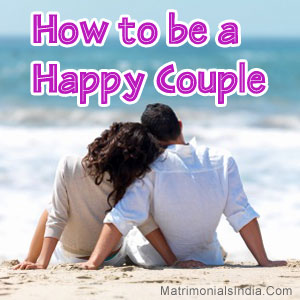 Well, if you think that there is a patent formula or a set of rules that can make you a "Happy Couple", you may be oversimplifying things. Married life is not governed by rules and laws but by a mutual admiration of the relationship that the couple shares. The day you learn to value your relationship and your better half, you will make a Happy Couple; there are no additional efforts, counseling or training required; let me assure you. Based on common experiences, here are a few things you must not forget if you want to be gay and happy in your married life.
Never shy away from interaction. Yes, you must make your spouse feel that you are his/her go to woman/man. Almost all problems and misunderstandings can be clarified by dialogue; by communicating, you not only address relationship turbulences but also strengthen bonds by laying assurance and conveying your love and affection.
Do not be unrealistic in your expectations. If you expect your partner to do everything right, in fact everything the way you "perceive" right, you may be aiming too big, and unfortunately inviting your own discontentment. Instead of changing the other one learn to adapt and adjust; remember your sacrifice is the most important ingredient of a meal of happy relationship.
Be ready to forget and forgive. To err is human, and you must remember this. There will be times when things don't fall in the right place, you want something, your partner wants something else, his/her actions may not please you or rather be the cause of your anguish. In that case, you must forget and forgive; that's the best way to be in a healthy relationship.
Be honest not only to your partner but to yourself as well. There is no bigger sin than to betray, and if you do that, relationship will only get sour and tarnished. Honesty to yourself means deliberating on whether you are really doing your bit to keep the relation strong or is it only a drag on your part. In case the latter is true, there are strong reasons that you rethink the way you want your relationship to head.
No ego clashes please. Get a dustbin, jot down the matters where you get too egoistic to yield and let that piece of paper rest in peace in its right place.
Looking For Brides Or Grooms ?
Register here Free and Find Easily
As I have already said, there are no set rules and laws that should be governing your relationship. You are the better judge to act when situations arise and let so be the case. An important piece of advice-never let a third person have a say in your personal matters. More often than not, things get worse by this and your relationship suffers. When problems arise, nip them in the bud and stay a happy couple forever.