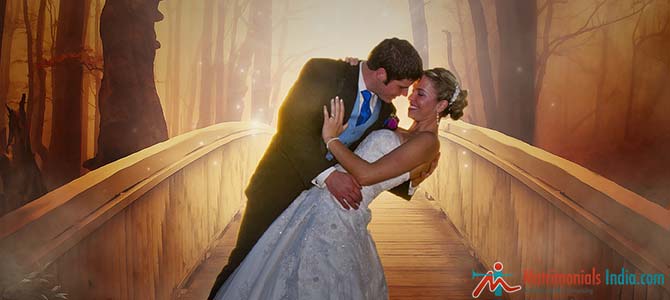 "Cheating is EASY. Try something challenging like being FAITHFUL."
Falling in love isn't in your hands. People can fall in love with each other at any time and any place. Everything seems lovely in the world and the lovebirds decide to take the vows. But one fine day, a partner comes to know about a shocking truth of their better half that shatters the beautiful dreams they saw together. It is about infidelity. Numerous memories start flashing in front of the teary eyes and the head hears just one voice 'Why' ? Why does a partner indulge into infidelity and are there any chances to bring the marriage back on the track after it. If yes then how ?
Looking For Brides Or Grooms ?
Register here Free and Find Easily
Calm Down & Don't Panic :
In a majority of cases where a partner is involved in infidelity, people tend to file for the divorce because they cannot tolerate the betrayal. But, filing for a divorce in a hassle will not lead to a solution. It will give rise to other issues as well.
Try To Understand; Initiate A Conversation :
This is the second best thing an individual must do. Why a person betrayed in an on-going relationship? It can happen because they weren't valued by their partner or found the relationship tedious. One can only find an appropriate answer to this question is by initiating a conversation with the life partner.
Maintain Transparency :
When a couple gets hitched in an arranged marriage, they should remain loyal to each other and maintain a complete transparency. Both partners should talk and know about each other's past and help each other in coping up with it by showering immense love. Though an umpteen youth do not consider this fact as appropriate but the truth is by maintaining transparency, the risk of an extramarital affair is reduced by 86%. If there is a lack of transparency in a relationship then there are higher chances of infidelity.
Give Another Chance :
A couple has taken vows to stand beside each other in each and every condition. But, there are certain circumstances like extramarital affairs that do not leave any chance for the revival of a relationship. Divorcing or leaving is seen as the only way to 'teach' a lesson. Such things never work out. By giving the life partner another chance is a mature way to resolve the issue without creating a chaos. If your life partner loves you from the core of his/her heart, he/she will apologize for the mistake committed by him/her.
Indulge In Nooky Acts :
Ahem, this will play a prime role in giving your marriage another chance. Couples complain that their major reason for indulging in an extramarital affair was nothing else but the lack of physical contact with their soul mate. To get the same pleasure, they found an individual outside the home. If your woman/man seems disinterested in you, simply try the art of seduction. It will do wonders and will maintain the healthiness in the marriage.
Infidelity is like picking up a rock and throwing away the diamond. It will fetch nothing. If an individual tells a lie to save the
relationship or marriage
, it is accepted for the well-being for it. But, if the same is done for physical pleasure just because someone is bored, all truths become questionable. If a partner has an extramarital affair, it would be better to talk about it rather than pondering over why it happened?