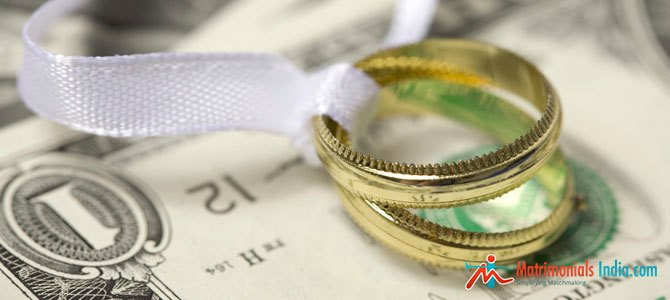 Marriage is the most exciting thing one can experience in his/her life. It simply means sharing your entire life with someone you love. Finance is the most important aspect in this sharing relationship. Once you get married to someone, it is an obvious fact that you need to share the money with your spouse since you function as one unit and not entirely as an individual. Here are some simple tips that can help you to make smart financial moves, after you are married :
Sharing Is Caring : Understand the importance of money and marriage in your life. Money cannot buy happiness. Discuss your income and plan accordingly, be honest with each other about your current financial situation including how much money you earn and how much debt and savings you have.
Joint Savings : Once you are married, it is important to decide your account details, that whether you want to start a joint account or want to manage your account separately. Decide who is going to manage the accounts. If you have a combined account, contribute equally to manage the bill paying process and other joint expenditures.
What Goes For Family? Marriage does not only mean that you are accountable to your partner, you need to take care of the family as well. Calculate the monthly expenditure, which includes your personal as well as the family income. Then, plan accordingly and spend wisely.
Savings Should Not Be Ignored : It is often seen that, out of the two partners, one is a mega spender and the other is miser. Set some saving goals, which can be fruitful for longer terms. Work through communication and develop some strategies on how can you bank your money for a secure future ahead. It is often seen that lack of communication persists between couples, when it comes to money matters. But when you have a disagreement about money, keep your perspective, and work on it by following these easy tips and surely you will come up with some wise financial.