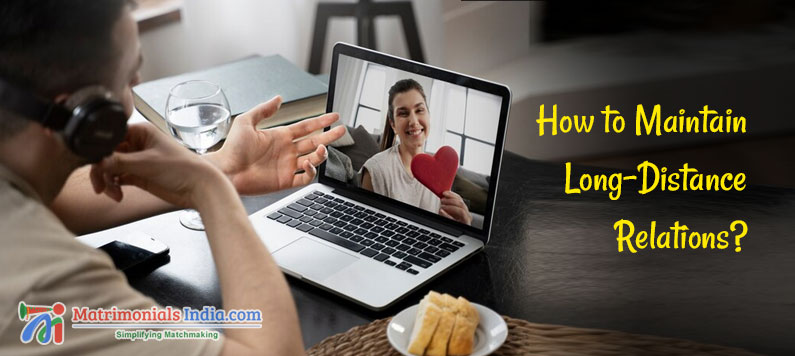 A relationship is one of the essential parts of human life. It does not matter how well you know each other. It requires daily pampering and faith. It requires proper understanding, mutual respect, love for each other, and problem-solving capacity.
If you love and respect your partner, your relationship will last forever. When you meet each other, it is necessary to avoid all the troubles of your life and focus only on each other. You cannot create a good bonding if you do not understand your partner's requirements. Therefore, try to make a strong friendship with your partner before creating any
relationship
.
Benefits of a Long-distance Relationship
The significant benefits of long-distance distanced love are as follows-
This relationship can teach you the lesson of maintaining your partner with the help of the internet and phone.
This relationship can create patience within you. Patience is an excellent factor in any relationship.
You will learn new things to spend quality time with each other. In this relationship, you will learn new techniques. You may perform it through video chat,
You will become an expert in social media communication. In addition, due to continuous communication, you will learn new communication tools.
This relationship will help you become more independent and help both of you maintain a good bonding in the future at the time of your marriage.
Feeling Communication Process
Establishing a good relationship is not an easy task. It requires lots of empathy and patience. When you plan to rebuild your romance in your long-distance relationship, always start with a little step.

Communication is the first step. Talk with each other to know your partner's liking, disliking, choices, preferences, and mental strategies.

If you feel any disconnection, mention the problem of your relationship. Ensure that your partner also knows the situation in your life. If you do not know each other properly, it cannot create bonding and long-lasting joy. Communication is a great tool that will help you solve any complex problem without considerable difficulty.
Proper Effort for a Relationship
Without effort, a relationship cannot stay for longer. If you want to maintain a long-distance relationship, you should start taking everything lightly. Do not take the matter seriously, whether it is your fault or your partner's fault. When you feel comfortable with your partner, you will share everything with your partner. It gives worth to your partner.

Try to arrange a weekend party or weekend holiday to feel happy. When you make an effort, it will motivate your partner to perform the same. If you love your partner, you will make an effort for your partner.
Dating Plan with your Partner
Dating is one of the essential parts of any relationship or wedding. A candlelight dinner or sudden outing can give immense happiness to your partner. Movie nights, grocery shopping nights, cooking nights, and dinner plans are some unique plans for dating.

If you plan a perfect night out with your partner correctly, the kit will give you immense happiness. Try to do something new as a couple. It will create bonding between each other. If you are in a long-distance relationship, some sudden outing plans will surely help you.
Avoid Office Talk
Do not discuss work when you are dating your partner, do not talk about your office work with your partner. Talking about your work life may spoil the relationship for any long-distance relationship.

In addition, your partner may not be interested in the field you are working on; thus, try to avoid these types of gossip with your partner. Likewise, do not share your view about the boss or office politics with your partner. Again, it can spoil the mood and spark of your partner; thus, try to avoid this matter.
Give a Surprise Visit to your Partner
If you want to make your boyfriend or girlfriend a soulmate forever, you should give a surprise. Try to visit your partner every weekend. It may create trust or bonding between each other. If they live in a different city, give them a surprise visit. Spend quality time with your partner. It is essential; to make happy to your partner.

If you show love and affection towards your partner, it will create great bonding with each other. Show creativity to your partner. Sending flowers, chocolates, and exciting gifts to your partner will make your partner happy. A surprise visit can give immense satisfaction to your partner.
Grow with Each Other
You and your partner may not be the exact human nature. Both of you may come from different backgrounds; thus, it is vital to adopt each other culture, faith, and truthfulness. Sudden outings, candlelight dinners, movie dates, and praising each other are unique signs of a good relationship. Try to maintain a
good relationship with your partner
.
It will give you immense satisfaction and long-lasting bonding. Once you understand each other, whether you meet daily or once in six months, the romance will always be there.
Essential to a Successful Marriage
Here are a few points that will help you to make the perfect marriage-
Make time for both of you. It can be a romantic outing, movie date, or sudden tour plan.
Find a minimum of 1 hour daily to plan for something interesting for both of you.
Try to understand each other feelings if you don't understand each other. It cannot make a successful marriage.
It would help if you built trust for each other. If you do not trust each other, your marriage cannot last forever.
Forgiveness is an excellent way of a successful marriage. If you learn to forgive your partner's mistakes, it will give you immense happiness.
Praising each other without any occasion is an excellent way of making a good marriage. It creates a worth or value for your partner.
Matrimonialsindia.com is one of the best matrimonial portals where you will get the perfect life partner. You can search our online portal to find the ideal life partner for marriage as per your requirement.