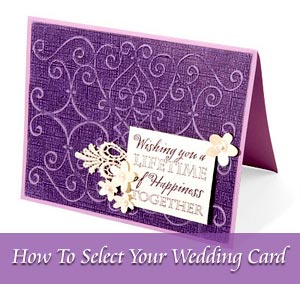 Getting married is a very important step in our lives, so everything related to it should be extraordinary, perfect and beautiful. One of the prominent things in wedding is a Wedding card, as it's the only way to announce the union with your life partner publically. Moreover, a
wedding card
is the medium through which you invite your loved ones to come and bless you and your better half on this auspicious occasion of your life. But the main problem comes when you decide to select your wedding card on your own, and end up being confused. But you don't need to worry anymore as this article will not only help you to select the appropriate design for your Wedding Card but also help in choosing the best one that will surely be admired by many.
Though designing a wedding card can be little bit more costly, but who cares, as quality and impression is more important than anything. So, the foremost step is to go and search the best market and shops in your area, where you can view, explore and select material, size, and color for your Wedding card. Besides this, you can also select your wedding card from the internet, but to avoid any mistake or loss, make sure to order a sample first to check your special requirements like quality, size and printing.
You can also choose different colors for your wedding card that are related to your wedding theme. For example, if you are planning out for a church marriage then its best to choose colors like White, Cream, Ivory, etc. To do something different, you can also add your perfect picture on the card to add an elegant look. Furthermore, for the people who are not planning for a theme marriage, they can select a card with prints of Deities and Auspicious Symbols. Nowadays there are many pre-designed cards available with the wedding card designers, which can be modified and made more attractive according to your special requirements. Lastly, it is said to always better to book extra wedding cards for any last minute additions.
Getting the perfect wedding card as per your imagination is possible but make sure that you don't go overboard and end up with heavy bills that can disturb your wedding budget. But with mind-boggling varieties of cards present with various card designers and suppliers, you can surely get the best wedding card as per your budget.