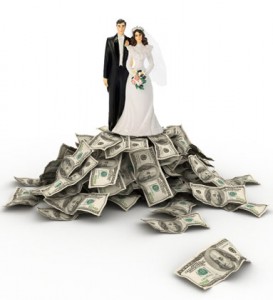 Couples are believed to be made in heaven but they tie the knot on the earth. Wedding is an extravagant affair that is celebrated with pomp and show. The wedding celebrations demand a lot of expenses that need to be calculated way before the wedding. The wedding budget requires to be finalized in order to avoid any kind of panic at the last hour.


Looking For Brides Or Grooms ?
Register here Free and Find Easily
Why you need a wedding budget ?
It offers relief to those planning the wedding
Avoid last minute confusion
Offers the planners ample of time to enjoy the wedding
The wedding procession is smoothly carried out without any hassles
Now, the question that must be tickling your minds must be how to set an appropriate wedding budget. We offer you certain important points that have to be kept in mind while setting a budget for a wedding.

Wedding Expenses first : Firstly, you must have a clear idea of the total money that will be spent on the wedding. Judiciously divide the money for the major expenses that are :
Clothes
Jewelry
Venue
Decoration
Gifts
Transportation
Accommodation of the relatives
Note : Some money must be kept in store for certain unexpected expenses.

Sharing the expenses : It is in trend these days to share and spend in a wedding. Both the groom's and the bride's side can share certain expenses like :
Reception costs
Photographer and invitation card can be common for both
This helps in reducing the wedding costs.

Bargain : While fixing the caterers, photographers, decorators etc. you must always bargain. Try and book these as per your affordability and budget.

Try and make the wedding a unique occasion : Don't waste your time thinking about the things that did not fit in your budget rather stress on making the event a memorable one. Keeping an optimistic approach will enable you to make a flexible and apt wedding budget.

Also, besides these things, think out of the box and try out some cost cutting measures like :
Homemade invitations
Wrapping the gifts and sweets at home etc.
Thus following our suggestions you can set a perfect wedding budget without compromising with any of your desires. Always remember wedding is an occasion that comes once in a lifetime so do not let it ruin because of the budget.