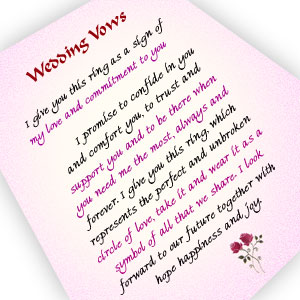 Writing your own Wedding Vow but are at a loss of words? Want to write the most unique wedding Vow ever for your loved one but can not find the best way to express yourself? Let us help you with this daunting albeit special task that will be remembered by your better-half for a lifetime. Wedding vows are the final declaration made by the heart that you have found the one who will share every moment of your life, through a collection of all the thoughts for your loved one. Wedding vows, whether classic, traditional or new age, solemnize your marriage ceremony with special lines or verses, written just for the love of your life. There are many instances where the bride or groom-to-be has been moved to tears with the special words being written and recited for them in front of their loved ones. The idea is to write something unique and personalized because this is not just some person, but the one with whom you will be spending the rest of your life, someone who will witness your happiness, share your sorrows and grow old with you.

Below are mentioned few tips about writing wedding vows :
The first step is to write down the set of qualities that attracted you to him/her in the first place. Is he/she the one you had always visualized marrying or someone totally unexpected who changed the course of your life? Write about the habits that you like in them and all those things that you find adorable.
The single most special thing to discuss in your wedding vows is citing the incident when you met for the first time and when you fell in love. Rekindling those memories when you are getting married is like remembering the sole reason why you decided to get married to this person.
Write how the relationship has changed you and how this marriage will change your lives when you are united.
Writing why you want to be married in the first place is a great idea along with mentioning your idea of a marriage and what it means for you.
Citing romantic lines from literature might sound clichd but they are an essential part of any Wedding Vow. You can even add lines from your favorite song or the songs that hold a special meaning for the two of you.
A little humor can be included in a Wedding Vow along with the traditional lines as it takes off the stress and makes the atmosphere all the more pleasant.

Keep the Wedding Vows short enough and write the final version on a note-card. Once you are done with writing, practice it with all your emotions as you would on the final day. It does not matter if you have a way with words or not, finally what matters is that you are telling your true feelings from the innermost recesses of your heart.