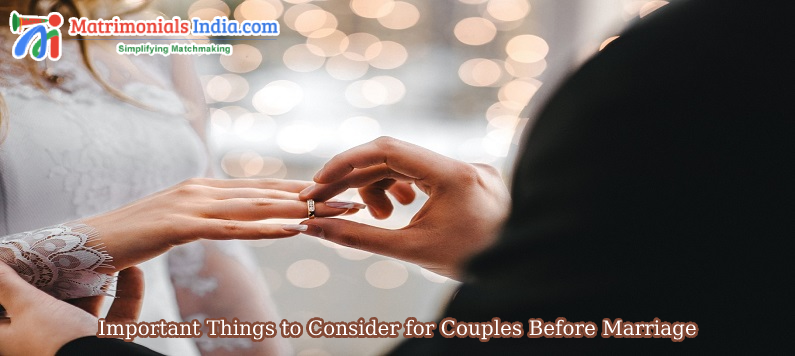 Are you soon getting locked in a wedding bell? Well, if you wish to do things flawlessly, you should be aware of the Dos and Don'ts before marriage. It is quite a genuine thing. It's clear. If you have some questions in your mind, here you can look to know about the similar.
No doubt, marriage is a big decision and your whole life changes the moment you finalized to get married. There will be different new things going on in your life. You will also have a whole diverse set of relations and priorities after the wedding. These things altogether often get too overwhelming to tackle. Couples even keep themselves in small fights and confusion for the same reasons.
Therefore, it is good to get hold of a few 'must do' points before a wedding with your to-be life partner. Or else it might get hard for you to undertake multiple problems along. Couples and their families also have thousands of groundings and shopping to do. Of course, it is no big deal if you miss out on a thing or two.
Accept and value both families
Indian marriages are considered a happy bond between two families and two souls. Therefore, it is the responsibility of both boys and girls to keep such things in their minds before they select to marry each other. You have different families belonging to different cultures. Naturally, the education, social circle, background, thoughts, etc will all be diverse. Some of their thought and practices might even upset you many times. However, couples should begin treating each other families like their own and respond a little less. Despite this, you should try to have a positive conversation with them and understand each other's awareness. It will set a tone for a healthy bond between you as well as the in-laws
after marriage
.
Joint or Nuclear family? Just discuss things!
However, several girls are happy to survive with joint families but others might consider it a great burden. Therefore, it would be good if you discuss such a thing beforehand. A girl who is full day working might face problems in handling things. You should not surprise your partner with a massive family after marriage. Even if you have one, it is fine you both talk about it and carry on, only if she is right with that. While most families these days are tremendously supportive and do not over-expect, a prior conversation is compulsory!
Commitment
No doubt, love can be fleeting; commitment is an assurance to love each other. Commitment is related to staying by the side of the partner's side, with no issue what the condition. It implies moving into "thick and thin" with the associate. In case, you are not committed mentally, physically, and spiritually to your partner, you might desire to reconsider your choice to tie the knot. No matter, two people who have committed to each other top the list of things couples should converse about before marriage.
Effective communication
What are the steps you will follow up to understand each other in a better way before How to know each other before marriage? By now, you must understand that effective communication is one of the fundamental elements of the wedding. A gap in the communication arrangement of a marriage can sometimes result in a failed relationship.
You are in a perfect wedding if you can openly express your feelings of the heart and avoid burying anger or hurt. There are different things to understand about each other before communication and marriage is a great tool.
No partner in a wedding relationship should undergo shy about communicating their feelings at any point in time. Neither of you should have momentous thoughts about sharing your needs, pain points, desires, and thoughts.
You should look into effective communication as one of the significant things to do before getting wed.
Work on the beauty tips
No doubt, marriage is the main life of the day. One cannot afford to appear any less than other people on your D-Day. So, confirm to do quick preparations for that. It is just better if you follow some natural or homemade remedies to boost your specification and the glow.
One can begin the day by drinking lemon and honey mixed with some hot water. Moreover, you should confirm doing at least 30 minutes of exercise daily even if you are previously in shape. Honey is also good for your face and works as a natural moisturizer. One can rightly mix Haldi and Besan to get the utmost glow. It is important to follow up on the beauty and grooming tips to confirm that you look amazing on the day of the wedding.
Smart shopping
To make your wedding successful, you surely need to do lots of shopping and spend a big amount of money. Both the groom and bride have to shop for different things for themselves to wear during different ceremonies. Therefore, it would be found to look into different things before you select a particular shopping end for your wedding. There are different shops in diverse parts of the country that sells the most fashionable and latest designs at totally affordable rates. It is essential to look for some markets that let you choose a market that can find affordable products.
Couples can even look for pocket-friendly outlets for their footwear, make-up, and additional wedding accessories. However, you should confirm that you begin to explore the store a lot earlier than your D-day to make sure you shop at the best price.
Matrimony sites like
Matrimonials India
are helping couples in making the right decision for their life. The website is engaged not just in making the right matches but in handling the Indian wedding without any difficulty. The team of experts is readily available to assist with the best tips after the wedding. Visit the website of Matrimonials India to find the best match-up who can become your life partner.