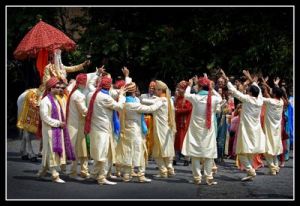 Have you ever wondered what an Indian wedding would seem like without a Baraat? It would be a wedding without fun, galore, dance, music etc. It will be a monotonous and a dull affair. As Indian weddings are known for their grandeur, so is the custom of procession of groom with his family and relatives to the bride's home (known as arrival of Baraat) is a much celebrated and lavish affair.
Looking For Brides Or Grooms ?
Register here Free and Find Easily
The Indian Baraat is a picturesque and a splendid view in which the groom sits on the white horse and travels his way to the wedding venue. Before sitting on the horse, the groom is adorned with a saafa (turban) along with a sehra on his forehead by his mother. A small-groom known as the sarbaala accompanies the groom on the same horse. The small-groom is generally a cousin or relative of the groom. And like an army accompanying their chief worrier, the Baraatis that includes friends, family and relatives of the groom follows the groom sitting on the horse.
The Baraat is headed by a display of fireworks and crackers with the family and relatives of the groom merrily dancing and celebrating through the whole journey to the bride's place. It is altogether a different view to see gaudily-dressed band players in the middle led by the elegantly dressed clarinet-group and the shabbily- dressed light carriers with the generator-set trolley trailing behind. With large sized loud-speakers and the brass band cacophony, baraatis all dressed in their best, dance, sing, shout, and laugh and lead their way to the wedding destination. This short journey is a joyous, colorful and an extravagant affair and is full of fun and thrill.
Then finally when the baraat arrives, at the entrance they are welcomed whole heartedly by the bride's family and relatives. With great enthusiasm the Baraat introduces itself to the family of bride and this ceremony is known as Milni. Then the baraatis exchange garlands with the bride's family members. Then sweets, food and snacks are served to them. And bride's family makes sure to take care of the groom's relatives and family members and let them be at ease.
Therefore, Indian wedding baraat or wedding procession is a prime characteristic of Indian wedding and it adds life the wedding ceremony.