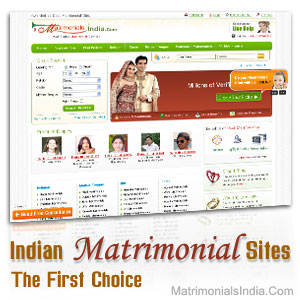 In a country like India, where the institution of marriage is taken very seriously, it is no wonder that Indian Matrimonial Sites have emerged as a great medium for parents and families looking for prospective grooms and brides. There are many reasons why Indian Matrimonial Sites have become an important tool in the hands of aspiring brides/grooms. Some of the major reasons are highlighted in the following write-up
Looking For Brides Or Grooms ?
Register here Free and Find Easily
Reasons Why Indian Matrimonial Sites Are The First Choice Nowadays ?
Lots Of Scope For Being Specific And Choosy : Since marriages in India are a one-time affair in most cases, most of the aspiring brides and grooms are very particular about the kind of partner they are looking for. On Indian Matrimonial Sites, you can choose to connect with like-minded people who share the same mindset, same passions & aspirations in life as you do. You can select a person from the same field of work, same place/community, religion, etc. There is world of choices available when it comes to Indian Matrimonial Sites. There are even opportunities available for divorced people & others who are taking a second shot at matrimony.
Easy Browsing & Lesser Time Taken : If you consider other traditional mediums like through relatives or friends, through advertisements, etc. then it takes up much time in the initial stages only i.e. collecting a pool of eligible candidate profiles. On Indian Matrimonial Sites, this is a very easy procedure where all you have to do is browse through the various profiles at one go, & select the ones that are up to your liking. Many Indian Matrimonial Sites give you the option of showing interest to profiles you like, this lets the other party know that you are interested in getting to know them & they may respond accordingly.
Less Expensive : Finding a prospective groom/bride through Indian Matrimonial Sites are comparatively less expensive and a more fruitful affair. You only have to pay a monthly membership fee.
Apart from these, most Indian Matrimonial Sites also provide the option of live chats where you can get in touch with people you like and get to know them on a more personal level. Nowadays Indian Matrimonial Sites are no longer a last resort, rather the first choice of people.