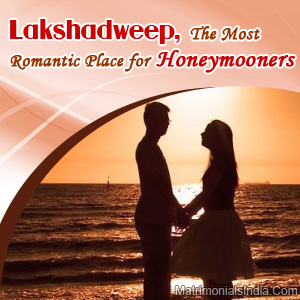 Lakshadweep is a beautiful place in India, which is surrounded with crystal blue water. For honeymooners it is an ideal place where they can blossom their love away from any hustle bustle of the city. Sailing around in the boat and seeing the evening sunset can be the ultimate experience of the lifetime for the honeymooners.
Honeymooners get attracted to the beautiful place of Lakshadweep because of its superb beauty and peaceful climate which gives the couples a romantic ambience. With five banks submerged in sea water along with twelve atolls turns the dream place into reality for various people who have come to spend their honeymoon.
Apart from this, if you are planning to book your tickets to Lakshadweep, then you are choosing the right destination to have a lovable time with your partner. When you land to Lakshadweep, there are some places which cannot remain unnoticed. You can visit a sanctuary of birds which is small and is covered with lush green forests. You can also enjoy helicopter rides and local fisheries which are the most popular places for the tourists and they make sure to visit it. Ajara and Jamnath mosques are other places which are mostly visited to take the blessings of the almighty. You can also enjoy some of the fascinating and beautiful natural attractions like Agatti and Bangaram which is situated in Lakshadweep islands.
Looking For Brides Or Grooms ?
Register here Free and Find Easily
You can book the best hotels in Lakshadweep, which you can search online. You will find various websites which will provide you with best packaging prices in Lakshadweep so that you can spend the most amazing honeymoon in Lakshadweep and make it a cherish able moment for yourself as well as for your partner which can be remembered all through your life.