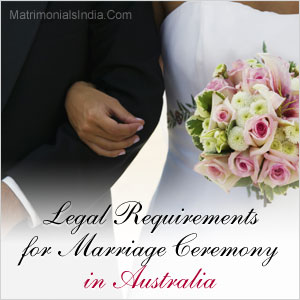 If you are getting ready for your Wedding Day in Australia there are certain legalities to be aware of before you decide on your wedding plans. It's highly important for one to understand the legal requirements in Australia before the actual wedding. You need either a civil or religious 'Registered Marriage Celebrant' to conduct the wedding ceremony. It is essential as only a Registered Marriage Celebrant is authorized to conduct marriages within Australia. They also have a Code of Practice which obliges them to adhere to and ensure that attention is given to the legality and professionalism of any Australian Marriage Ceremony. The marriage celebrant gives the marriage certificates to ensure the legality of your marriage. You must fill up the form called a Notice of Intended Marriage (NOIM) In Australia, this form must be filled out and signed by the intended couple in front of certain witnesses, such as a 'Civil Marriage Celebrant' (CMC) and then received by the Celebrant who will conduct your wedding, at least one month and one day prior to the actual ceremony day. Every registered celebrant will have such a form and they will help you with filling it out. A Registered Marriage Celebrant knows of, and understands the requirements and procedures necessary for registering a lawful marriage. In addition to arranging the above requirements, a good marriage celebrant will also provide :
A well-presented legal Marriage Certificate
A certified copy of the Marriage Certificate after the wedding, enabling you to change your surname on all your legal documents
Accommodate you with a brief and pleasant ceremony in case a formal ceremony has not been planned
Appropriate music, speakers and microphone; all will be taken care of
Wedding Vows Even though the wedding ceremony will be organized according to your wishes and will be unique and personal, legal requirements to marry in Australia state that your wedding vows must comply with section 45 of the Marriage Act 1961.

Witnesses According to the legal requirement you must have two witnesses over the age of 18.

Bank Accounts/Credit Cards You must contact your bank or financial institution regarding their legal requirements.


Looking For Brides Or Grooms ?
Register here Free and Find Easily
The Wedding day is one of the auspicious days that one tends to cherish all throughout the life. Therefore being a little extra careful about all the necessary requirements especially the legal requirements prior to the wedding will make you stress-free and hassle-free and it will turn out to be the most memorable day of your life.