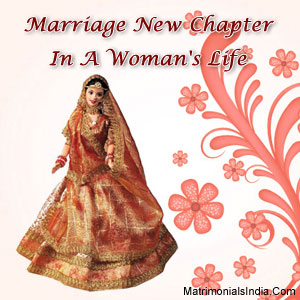 Marriage is a word which changes everything in women's life. If you are getting married, soon you will be sharing your life with your future partner. This will bring new responsibilities, new family ties and adjustments. Marriage is not always a bed of roses but support, love and understanding from in-laws can make it is an easier ride. Key quotient to lead a happy married life is to understand each others' need and act according to it. Apart from these, there are some useful tips that can help you in leading a right from adjusting with your in-laws to keeping your husband happy.


Looking For Brides Or Grooms ?
Register here Free and Find Easily
Don't Be Dominating Freak
:
Give some space to your hubby. Men do not like women controlling them. Let him have fun with his friend's. Allow him to go out for boy's night out. It will refresh him and his mind. Don't try to run his world. Just let him be himself and do things his way. This way he will also give you space which you require. The more satisfied a man is, the better it is for you and your relationship.
Don't Be Jealous
:
Men are born with a roving eye. Don't be jealous while he is looking at other women. Do not be wary, as it is their in-built trait which they can't change. If your man is ogling at some other girl that doesn't mean he is cheating on you. It's just their normal self. But if it gets out of hand then maybe you need to lighten up a bit by playfully teasing him or seriously discuss the matter and you feelings.
Seduce Your Husband :
Sex is the natural process which rejuvenates the dull and boring marital relationship. Sex is the best way to bring intimacy in your relationship and it will bring you closer to each other. It will add some spice in your exhausted and lifeless relationship so try out different ways of seducing your husband.
Don't Try To Change Him
:
Don't try to change your husband but accept him for what he is and love him evermore. Men are cluttered, confused, and crazy, but they do anything and everything to keep you happy. Accept him unconditionally for he is the one who will support you when no one is around. These tips are basically based on a man's psyche and the emotional equation of the spouses in a relationship. With an understanding of your man, you can surely form a strong bond with him to make your marriage work and get through the initial adjustment phase to become more than friends or lovers.