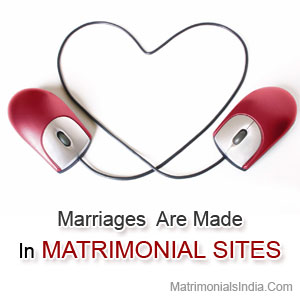 A Matrimonial Site is the modern day "matchmaker" in India, a country deeply rooted in tradition, where arranged marriages have been performed since ages to establish a sacred bond between two families. In this age of Gen X, where love marriages are considered the "in thing", Matrimonial Sites are proving to be the new approach to arrange marriages. The unity in diversity that India boasts about is well justified by the rising popularity of these broad-spectrum Matrimonial Portals providing adequate options to the diversified Indian population. Online Matrimonial Portals are providing easy and effective service in categorizing and highlighting matrimonial information for potential brides-grooms at national, regional and local level. Adequacy and authenticity of information are vital factors in deciding the web-metrics or, in other words, popularity of a Matrimonial Site.


Looking For Brides Or Grooms ?
Register here Free and Find Easily
Interactive Matrimonial Sites : These sites make use of the popular chat phenomenon to provide first-hand matrimonial information to specific profile holders in a Matrimonial Portal. This drastically reduces the chance of information falling in the hands of the wrong person. Such interactive platforms are gaining popularity because of the value added services that come with the registration. Instant reaction from prospective brides/grooms is certainly desirable than simply registering in a site and waiting for a feedback. Such sites also post info on the couples who have successfully hitched through this platform and are enjoying marital bliss, which further bolsters the credibility of such sites.
Matrimonial Site Is The New Social Networking Site? - The recent mad-rush of social networking sites and their immense popularity has triggered a new wave of Life Partner Matchmaking Sites that are adopting and profiting from the same concept. Just like a Social Networking Site, it provides a range of features like sharing of likes & dislikes, personality assessment through the various categories, profile creation, live chat options with video/audio features and more. Hundreds of Matrimonial Sites exist at national as well as regional level to cater to the large number of prospective grooms/brides. You can choose any of the sites keeping in mind a few things like cost, credibility, added features, visibility and presentation of course.