Matrimonial Portals: Changing the Scenario Of Arranging Marriages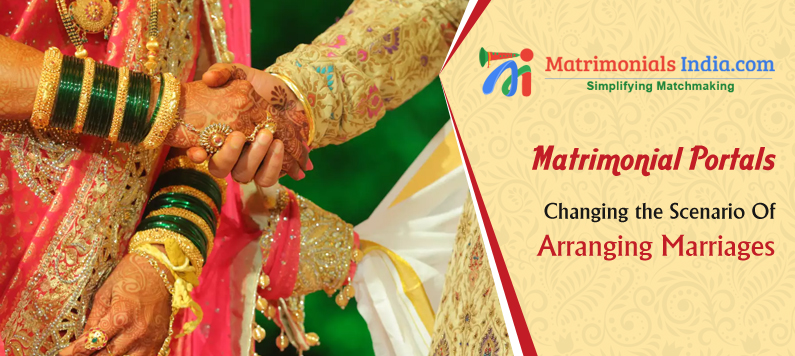 The tradition of arranging a marriage has seen many transformations down the ages. Earlier it was the responsibility of a close relative or a priest to give information about the prospective Brides and Grooms. But in the modern age, matchmaking is taking place through newspapers and even the internet, providing a much wider platform for boys and girls of all cultures, age groups, castes and languages to meet each other irrespective of geographical barriers.
The Popularity of Matrimonial Portals has soared due to various reasons:
Access to thousands of profiles.
Systemized searching capabilities even for the most specific requirements like age, caste, ethnicity, language, religion, gender and so on.
Increased communication: Contacting is so simple. With just one click you can get in touch with any person.
Detailed profile: While traditionally you had to individually meet each other for a fair idea regarding one's personality, with online Matrimonial Portals you can virtually access the detailed profiles and even chat before meeting in person.
No Third person: Matrimonial Portals have diminished the existence of third persons like brokers or agents so that you can directly put your preferences across.
Points Of Caution With every concept on the internet, there is the Good, the Bad and the Ugly. The downside of getting to meet eligible people through these portals exists in various ways and you should watch out for :
People who are not serious about getting married and are there just for fun
People who have malicious intent in contacting and scamming people
Fake profiles of people who pretend to be someone else
Overseas alliances: Alliances outside of the country need to be handled cautiously as there are many cases of remarriages taking place through such portals.
With many success stories doing the round these days, even the most conservative parents have taken to this method of arranging a suitable match for their sons or daughters. So, you just need to exercise a little caution as opposed to match-making in the real world but the benefits at your hand are very good when it comes to Matrimonial portals.