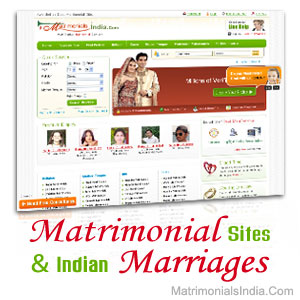 As opposed to the western culture, Indian marriages are considered a union between two families, rather than just a relationship between two individuals. Till very recently, arranged marriages were the norm here, where the family (parents, relatives, elders in the family) of the prospective groom & bride got together & decided the suitability of the union. But lately owing to urbanization & western influence, joint families have largely disintegrated, & nuclear families have attained more prominence. One direct effect of this breaking up in joint family ties has been on the marriage prospects of the prospective grooms & brides. From match making agencies to classified advertisements, many channels have emerged to fill in the gap created by the breaking up of the traditional network. Of these, Matrimonial Sites have emerged as the most popular alternative today. There are several reasons as to why the life partner websites have become so popular. Some of the more important ones are enumerated below.


Looking For Brides Or Grooms ?
Register here Free and Find Easily
Matrimonial Sites: A Popular Platform For Finding Suitable Brides And Grooms
Availability Of Choices - Rather than having to depend on the traditional network of family, friends, relatives, etc., the Matrimonial Sites provide access to a wider pool of prospective brides and grooms.
No Third Party Interference - As opposed to traditionally arranged marriages, or ones finalized through matchmaking agencies, there is no intermediary in case of Matrimonial Sites. Here the girl & boy can easily exchange information & maintain a direct contact.
Comprehensive Profiles - Unlike the matrimonial ads, where only superficial information is provided, the Matrimonial Sites have a content rich profile. So, prospective grooms & brides can easily browse through the profiles to find like-minded partners.
Search And Filter Options - One of the best advantages of the online matrimonial sites is that they offer ample search and filter options to the Indian users. In India, where factors like - caste, religion, gotra, horoscope, etc. still matter a lot, these sites offer advanced search options which make it easier for people to find suitable partners.
Matrimonial Sites have indeed emerged as a great platform to find a suitable partner, for the tech savvy generation of today.