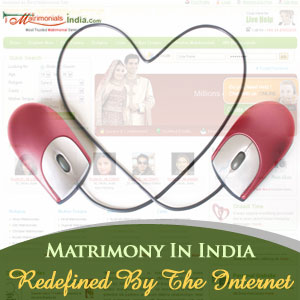 Marriages are made in heaven, so the saying goes. Earlier, parents and elders used to search for marriage proposals for their children. The children were kept out of the picture and after all proceedings are prepared, they were informed of the "decision". Now, the matrimony scene in India has undergone a revolutionary change. Parents and children assume equal roles in looking for a suitable match. Even the expectations with marriage have changed with time.
With the advent of the Internet, there has a surge in the number of online
matrimonial sites
. There are sites for all communities. People register on these sites and create profiles that can be viewed by many others who are also looking for suitable matches. The online matrimonial sites offer a chance for the children and parents to come together and look for an appropriate
life partner
.
The numerous matrimonial sites have many search filters and criteria that ask for various details and then show profiles of candidates who fit the particulars entered. The searches can be done on the basis of a number of criteria like caste, language, place of residency, age, educational qualifications etc. There are many advantages in using the net for matrimonial searches.
You can search for a partner as per your preference
These sites also allow the provision of uploading photographs with the profiles. This helps in getting an initial impression about the person.
These online sites bring people closer to people of their own community who live faraway. They are also helpful to people who reside abroad and are looking for a bride or groom from their home country.
The online matrimonial sites also offer the option of online chatting. The girl and the boy can talk to each via live chat and get to know each other better before taking a decision.
Matrimonial sites
have support staff, to call up the registered users and verify the details, which makes the websites a safe bet, if carefully used. So keeping pace with the changing times when looking for the "perfect match", remember that the person could be on any one of the matrimonial sites.