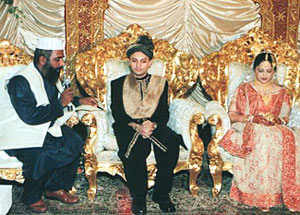 As the strong advocate of marriage,
Muslim marriage
commonly known as Nikaah is celebrated with a lot of vigor and magnificence. For Muslim's, marriage is a religious duty and a social responsibility. It is a voluntary union of two people- a man and a woman for conjugal life and for raising a family. Unlike Indian weddings which take place at an auspicious time, Muslim marriages take place at any convenient time.
Looking For Brides Or Grooms ?
Register here Free and Find Easily
For a Muslim marriage to be valid, certain conditions must be met
Consent of both bride and groom
Mahr a gift from groom to his wife
2 witnesses (male or female)
Marriage must be a public affair and not kept as a secret
Muslim wedding is divided into pre-wedding, wedding and post-wedding rituals. All the ceremonies related with the wedding are celebrated with a lot of zeal and splendor.

Pre-wedding rituals
Istikhara - This ritual increases the level of excitement and enthusiasm among the families of brides and grooms. Mujtahid (religious head) obtains the consent from the God with the help of a Rosary. And then the mother of the groom along with other female relatives and family members pays a visit to the bride's home with sweets. The boy's family sees the girl's face for the first time at this occasion.
Mangni - In this ceremony, the female members of boy's family visit the house of the girl with lot of food, sweets and vegetables. The sweets are then distributed among the girl's friends and family. Exchange of rings between bride and groom takes place.
Wedding rituals
Nikaah - It is the day of wedding when invited guests and relations assemble at bridegrooms place. Bride wears a long flowing skirt and a blouse dress that is known as Sharara. And the head is covered by a dupatta. A groom wears a Sherwani or a traditional salwar and kurta. Settlement of Mahr takes place and Mujtahid asks the bride and groom separately, whether they accept each other as husband and wife. If both answer in affirmation thrice, then Mujtahid recites religious discourses and the Nikaah is completed.
Post-wedding rituals
Arsi Mushaf - Arsi means the mirror and Mushaf means the holy Quran. It is the occasion when groom for the first time sees the face of the bride in a mirror held between them.
Salami - After Arsi Mushaf ceremony is over, both bride and groom salutes the elders and gets money and presents from them.
Hence,
Muslim weddings
are a grand affair with lots of joy, pomp, celebration and feast. These weddings are a sight of color, beauty and magnificence.