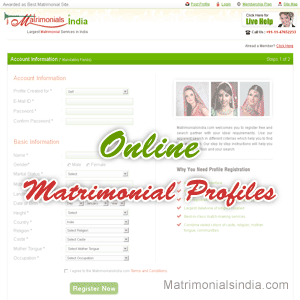 With the advent of the new technology called internet, the age-old process of matchmaking has undergone a complete makeover. Finding a life partner is now much easier all thanks to the Internet. Earlier one had to rely on the priests or relatives to look into their circuit of connections to search for prospective matches. Then came the time when one could see people publishing ads in newspapers for the same. There, they would give little relevant details and expect responses from the potential brides' and grooms' families. Now, the internet is capable of doing this tedious job for you in much lesser time. All you need to do is get registered at a
matrimonial site
while considering certain things as follows :
Create An Interesting Profile :
Just keep it in mind while filling out the information in your profile that it should be correct to your knowledge. It has to be interesting enough as well. Make it a point to upload a recent photograph so that it becomes easy for someone to shortlist your profile. A picture is the first thing that attracts anyone to a
matrimonial profile
so ensure that you upload a clear picture with close shot. There are some sites that give you an option of showing the photograph only to the interested people.
Relevant Information And Authenticity :
Be sure of what you have written in your profile. Accuracy has to be maintained as it can be checked by the bride's/groom's family. It could be about your educational qualification, your family background or about your personality. Every piece of information has to be true to your knowledge.
Highlight Positive Aspects Of Your Personality :
Always try to emphasize more upon the special areas of your personality. Highlighting them would give an idea about you to the other person and you should also detail your preferences as well as qualities that you would like in your partner. This would generate interest in the profile.
Stay Regular :
You should always be regular and check your profile. Show ample interest in the people who respond to you. Maintain your profile by regularly updating your information. Be polite while responding and try to make a best impression as it is well said that first impression is the last one.
By following these few tips, you can successfully interact with many people who are searching for their soul-mate online.