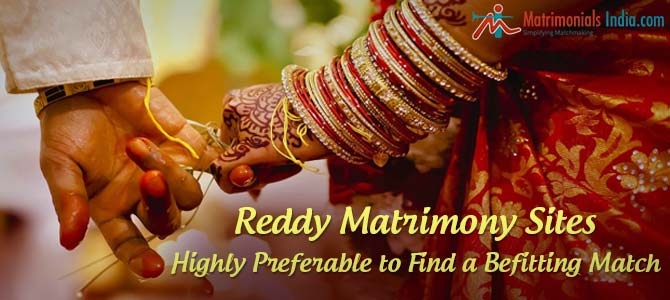 Significance of matrimonial alliance in Hinduism is imperative to mention. It is considered as one of the most sacred rituals of one's lifetime. In fact, it is believed that once the holy knot is tied, the bride and the groom are destined to be life partners for next seven births. Thus, a great concern is expressed to find the right person for marriage. Marriage means a big family event in India so all the acquaintances of the marriageable boy or girl are deeply concerned for ensuring that their beloved gets the perfect life partner. Moreover, it is ensured that the person who is going to be a part of the family after marriage is approved by all the family members along with the bride or the groom.


Looking For Brides Or Grooms ?
Register here Free and Find Easily
Reddy Community
: Reddy Community is one of the most respectable groups of Hindus in Indian Society. Most of the people of
Reddy community
reside in Andhra Pradesh, Tamil Nadu, Karnataka, Maharashtra, and Kerala. In their native lands, they are looked upon as the leaders and are also recognized as Zamindars. The leadership skills of the people of Reddy community have made them exhibit exceptional political dominance.
Online Matrimonial Services for Reddy Community :
As mentioned already, Reddy Community has a distinct identity in the society. The people of Reddy Community believe in moving ahead with time. Thus like most of the other Hindu Groups, Reddy Community is also taking the advantage of Online Matrimonial Sites to find a suitable matrimonial alliance. The matrimonial services available on the Internet enable them to go through the profiles of unlimited prospects of the Reddy Community and select the profiles match their exact requirements. These websites act as an amazing platform to find the suitable match in accordance with the different parameters such as language, location, profession, family background, etc. Thus, matrimonial sites make for an ideal way for the girls and boys of Reddy community to find a suitable match. So if you belong to this royal community and are planning to get married soon; wait no longer! Get yourself registered with an online matrimonial Site and get closer to your dream person.