Rituals In A Muslim Wedding - An Introduction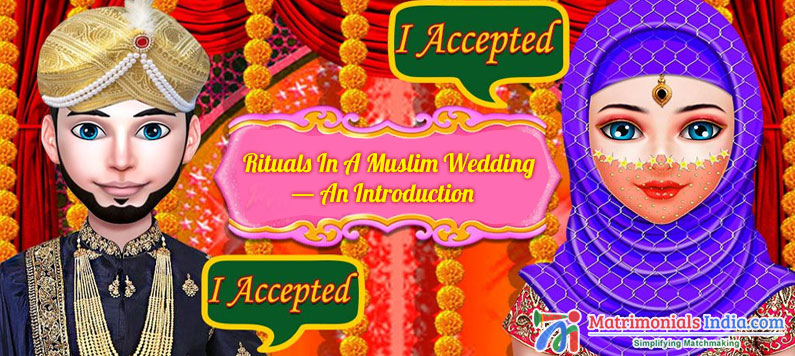 As per Islamic teachings, marriage is not just a union of two people; it is a sacred ceremony that lays the foundation for a family. Muslim marriages are called Nikah & are traditionally solemnized by the Imam. Traditional Muslim marriages take place in a Mosque in the presence of family, friends & other relatives. Though there are many different kinds of rituals followed in different kinds of Muslim marriages, a few are universally followed. A few such rituals are mentioned in the below write-up.
Reciting Of The Sermon -
In traditional Muslim marriages, the family & relatives congregate in the mosque & Imam starts off the Nikah Ceremony by reciting sermons. Herein, the Imam may also make the husband & wife understand their responsibilities towards each other. The Imam also may explain the sanctity of this institution of marriage.
Announcing The Marriage - The Imam announces the marriage to the public & names of the parties involved are announced. There is usually a written contract that is signed by the guardian of the bride, the bridegroom & the bride, and two witnesses. In the mosque when the Nikah is being solemnized, the Imam publicly asks each of the parties involved i.e. the bridegroom, the bride & the guardian for their verbal consent, on the spot. Once all the parties have given their consent, the marriage is finally solemnized. The dower i.e. the settlement that the groom has to pay to his bride exchanges hands. The details about the dower (how much settlement to give, whether money or other valuables is to be given, etc.) are declared before the ceremony.
Rukhstana, or the Sending Off Ceremony - In this ceremony, the bride is finally sent off & her near & dear ones bid her farewell. There is a gathering of friends & relatives who are treated to a lavish dinner. The guests offer their blessings & gifts to the newly-wed couple.
Waleema Party - Once the marriage is consummated, the bridegroom organizes a Waleema Party to which friends, family & relatives (from both sides) are invited. There is usually a grand feast for the guests.