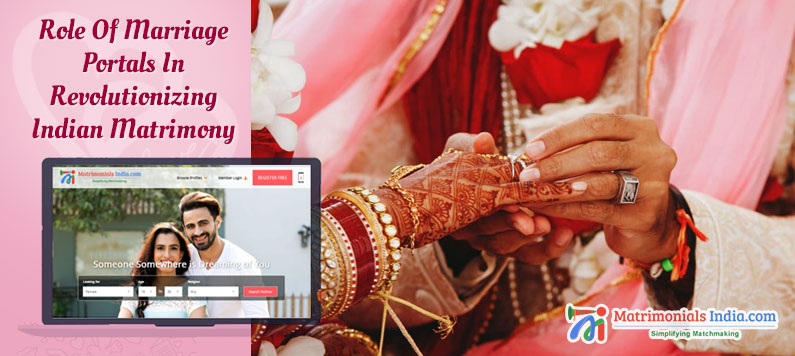 Role Of Marriage Portals In Revolutionizing Indian Matrimony It is rightly said that online matrimonial portals have revolutionized the Indian traditional method of finding a suitable match. Now, there is no need to rely on local marriage agents or acquaintances to find a desirable partner. Just register with a leading matrimonial portal and your perfect partner is a few clicks away. Millions of prospective brides and grooms are available irrespective of community, religion, caste, region and language. Marriage Portals are a fast, easy and reliable alternative to finding the best possible match as per your preferences.


Abundance Of Choice
The
Matrimonial Portals
provide excess to a large number of profiles to search for the potential match. Individuals can create their own profiles and upload their pictures to increase the chance of responses they receive. It is a safe and secure way to find the more appropriate options as per the requirements of various people.
Refined Search
Marriage Portals allow people to view the profiles and filter their search according to their preferences regarding caste and community, region and religion, profession, and age. These portals also help in providing general information about the prospected bride and groom, like educational qualifications, interests, hobbies, family background, career history, etc.
Free and Reliable
Most of the leading Matrimonial Portals allow people to create their profiles for free. No charges are applicable for finding your suitable match and getting their personal details. This is why more and more people are opting for this online service. In addition to this, these portals are extremely reliable to find an ideal soul mate as they have opened new windows for people to know each other in a better way.
Easy to Approach
After selecting a suitable profile, it is very easy to approach the other party by showing interest in the person. If the person is also interested, contact details can be exchanged to arrange a meeting to discuss further possibilities. If all goes well, the couple can tie the knot.
Some Marriage Portals also offer other follow-up services like booking venues for wedding ceremonies and planning memorable honeymoon trips. The array of services offered by these portals has contributed extensively to their growing popularity among Indian families. These websites are gradually proving themselves successful in finding the ideal match for millions of people.