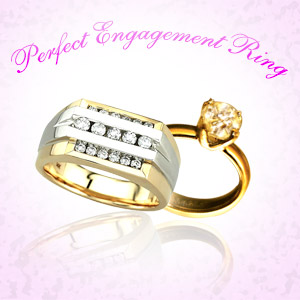 Getting engaged? So, it's an emotive occasion for you, especially thinking about that moment, when you and your sweetheart will exchange engagement rings with each other. It is the engagement ring that symbolizes that the person is committed to someone and intends to marry him/her. Therefore, when it comes to choosing the perfect engagement ring for your partner, then you would not like to compromise.? Your fancy to pick the most beautiful engagement ring for your prospective partner may get deter, due to lack of experience and fixed budget. Read ahead for an ultimate guide that can surely help you in making a wise decision, while selecting the perfect engagement ring.
Give Your Spouse What He/ She Wants : The most significant piece of advice is to buy the type of ring as per the taste of your sweetheart. Here, your own taste doesn't matter as that ring has to be worn by your partner and if it is as per his/her liking, then only it's worth spending money. For instance: Know if your partner prefers traditional or contemporary and if your partner s more inclined towards gold, diamond or a blend of both. This can surely ease your task of choosing the engagement ring, which would definitely be liked by your partner.
Set Your Budget : Now, once you know the choice of your partner, you can easily set your budget and choose the ring. It is always preferable to determine before hand that how much you can afford and how much money you can sneak out of your pocket. Yes, definitely it's an emotional moment for both of you, but don't let these feelings come in your way, while making a purchase. If you will get sentimental, then the jeweller can easily slink out more money from your pocket, thereby quivering your budget.
Avoid flashy designs : Don't even think about presenting your partner with a showy or flashy ring that is out of fashion. Play safe and choose a simple yet extra-ordinary ring for your partner. Best is to choose ring with a classic shape solitaire.
Take Help from Parents or Buddies The idea of buying the engagement ring alone is wrong. Take your parents or trusted buddy along with you. Even if you get confused between two beautiful rings, then the person along with you can help you in making the right decision

So, now that you have read all the tips for choosing an engagement ring, we hope that you make a right decision and select a ring that is liked by your partner, and is within your budget.