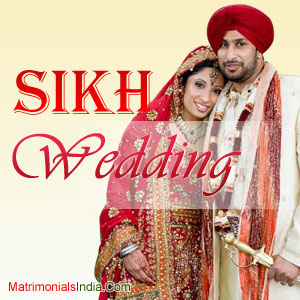 Sikh Wedding
is a joyous occasion which is considered very sacred and pious. Though the actual Wedding ceremony does not take more than thirty minutes yet the wedding rituals start a week before the Wedding. The Wedding ceremony takes place in a Gurudwara, in the presence of Guru Granth Saheb ji. All the family members of both the bride and the
groom
are present in the wedding. Most Sikh families take any wedding in their house to be a reason for being together and enjoying the marriage celebrations to the fullest. Some of the popular Sikh Wedding rituals are discussed below :
Roka : In this ritual, the families of the bride and groom declare that they are soon going to get their children tied in the sacred knot of marriage.
Chunni : This ceremony is for the bride. The ladies of the groom's family gift the bride a Duppatta, which is also known by the name of Chunni. It is done to indicate that now the girl belongs to the family of Groom.
Sagan : Grooms are presented with some gifts by the family of the bride. Father of the bride plays a big role in this ritual.
Chura Ceremony, Vatna Ceremony and Ganna Ceremony : A day before the wedding, the maternal uncle of the bride gifts her set of traditional red and white colored wedding bangles. The Vatna ceremony is equivalent of Haldi ceremony of Hindus. In Ganna Ceremony, a moli (sacred thread) is tied to the wrists of the bride and groom.
Anand Karaj : The wedding ceremony of Sikhs is called Anand Karaj, which means a joyful occasion. The sisters of the groom tie a Sehra to his turban before reaching the gurudwara for Anand Karaj. Before the ceremony actually begins, it is taken off. Then the father of the bride gives the Groom's stole in the hand of the bride. After these pre wedding rituals, the actual wedding begins. The priests of the Gurudwara recite wedding hymns, which are called lavas. In the meantime, the bride and the groom take rounds around the holy scripture of Sikhs- Guru Granth Saheb ji. There are four lavas for the wedding. The couple has to take one round for every hymn. After the Lava Phere, the couple is declared to be married.
Looking For Brides Or Grooms ?
Register here Free and Find Easily
Therefore, combining all the rituals and ceremonies a Sikh wedding is a celebration, a happy occasion that joins two lives into an unbreakable bond for a lifetime.