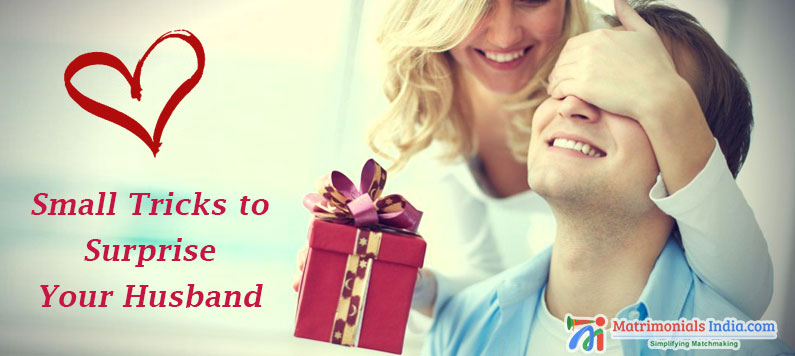 Planning and implementing small surprises for your husband is a good way of keeping the romance alive. And it is also wonderful to know that the tricks do not cost much. Thus, they can be played now and then. Some of the ideas mentioned below can work wonders in pleasantly surprising your husband.
Come Home To A Surprise
This technique can be used to share good news like promotions, etc., and should be done after the husband comes home from work. He will naturally be tired. Go on with the usual activities like any other day for a while and give him his usual cup of tea or glass of juice. When he has settled down, expecting the next part of the schedule, go to him and give him the news. The wife can explore her creativity while deciding the manner in which the news is to be broken to him. Some news is best conveyed in whispers.
Pretending That You Forgot
This trick always works. And the best part is that it can be employed any number of times. When there's an important day like his birthday approaching, pretend that you don't remember about it. Don't speak anything about it in front of him. Even though most men will say otherwise, they do care about the dates of the special occasions, at least those that they can remember! Plan a surprise birthday bash, and hide it well from him. Wake him up to the birthday party when the clock strikes midnight hour.
Visit Him At Places You Are Not Expected
One of the surest ways of surprising your husband is to visit him at places where he usually does not expect you. Such places may include his workplace, etc. However, be sure not to interrupt him for too long. For example, pay him a visit during the lunch hour at his office. One thing which every wife should know is that a husband introducing his wife to his colleagues is a proud and happy man.
Surprisingly your husband does not always come for a huge price. In fact, very often, they are the little incidents that hardly involved any cost which your husband will fondly remember for a long time.