Steps To Make Your Relationship Work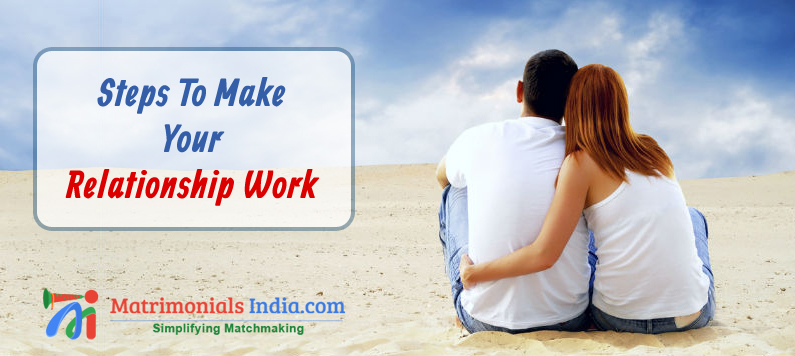 Have you been married just for a few weeks and are already getting irritated by your partner's habits? Is your partner not spending enough time with you? Are you missing your single lifestyle and are not able to adjust to marital life? Then it is time to start working on your relationship. If you are facing these problems then it is quite natural. Every relationship has its ups and downs and the best way to convert those downs into ups is by following certain simple steps, which will help you have a smooth relationship with your spouse.
Communicate - The best way to avoid any misunderstandings and communication gaps is to communicate with your partner. Your partner is not a mind reader who will be able to read your thoughts. If you expect your partner to behave in a certain manner then tell them. It is best to speak out your feelings and desires rather than expect your partner to understand them without your telling.
Do Not Blame - If your partner has committed a mistake, then there is no point in nagging them about it. If the mistake has hurt you then tell your partner about your feelings. Don't blame him/her for that mistake but try to work it out so that the same mistake is not repeated again. If mistakes were committed in the past, do not bring them up and spoil your present and future.
Honest Relationship - Maintain an honest relationship with your partner. The most important aspect of marriage is TRUTH. If you are lying to your partner about anything, it means you do not value his/her presence in your life. If you want honesty then you have to be honest. There is no point in expecting honesty from your partner if you yourself are dishonest.
Sacrifice - For a relationship to work, both partners have to make certain compromises and sacrifices. If you are unwilling to make compromises then you cannot expect your partner to compromise either. Take the initiative and your partner will certainly reciprocate.

To maintain a harmonious relationship it is important to understand each other's characters and temperaments. Remember a car needs four wheels to run smoothly. In the same way, the willingness of both partners is essential for a successful marriage.