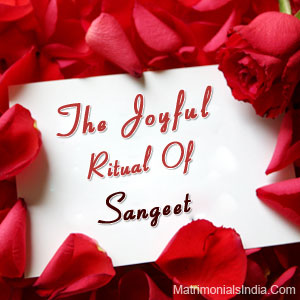 Any celebration is incomplete without dancing and singing. In Indian wedding ceremonies as well, dancing and singing from a part of the entire celebration and rituals. No matter in which region or culture the wedding takes place, there has to be some dancing before the auspicious wedding night.
Looking For Brides Or Grooms ?
Register here Free and Find Easily
Beats Of The Sangeet Ceremony
In India, especially in northern parts, Sangeet ceremony forms a formal part of the
traditional wedding
. On the day of Sangeet, the family members from both sides meet each other, and sing and dance. Generally, they dance on the beats of dholak. Many a times, it becomes a ladies-only affair where men are strictly not allowed while young and elderly women have all the fun!
An Ice-Breaking Occasion
It allows both the families to know one another. It performs the much needed job of breaking the ice between the two families, who are anxious about how the other side will react on their preparation. While dancing and singing together, many light jokes are shared which make the atmosphere lively. Arrangements of light snacks and drinks is also done.
Though it is mostly a ritual of the
north Indian weddings
but the popularity of the Sangeet Ceremony has spread over different regions of India, be it east, west or even south. It has become popular because the merriment and joyful ribbing makes for an unforgettable experience. Indian movies also include this ceremony as a much demanded part of the wedding ceremony shown. With theme, it also has been modernized. Now, Sangeet ceremonies are arranged with hi-fi music systems and according to specific themes where people dress according to the theme.
It is a ceremony where people of all age can enjoy together, so, with time it is obvious that the Sangeet ceremony will cross all boundaries and will unite people into an auspicious thread of joy and celebration.