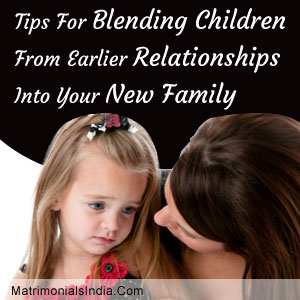 Children from a broken family are often emotionally disturbed and are quite sensitive because they have to separate with one of their biological parents. You may be aware of this fact, if you have just separated from your spouse with your child and are planning for a second marriage or are already married. You must have experienced that there has been a rapid change in the attitude of your child after you broke up and got into a new relationship. Yes, indeed it's your relationship status that has been affecting your child since you got divorced and married someone else.


Looking For Brides Or Grooms ?
Register here Free and Find Easily
If you are feeling guilty about this, than I guess you shouldn't, because moving out from an unhappy marriage and moving on with someone whom you see as your bright future is perfectly fine. In fact, it may be the best thing that you ever did for yourself and your child because those arguments and clashes with your ex-partner were more painful for you and your child. The child may feel out of place and that he does not hold much importance in your life now, but with care and affection you can handle this situation well. Trust me, after a few days you won't even remember that these hard times ever existed. Following are few tips which can greatly help you in blending children from earlier relationships into your new family :
Firstly, don't lose temper even when your child has been a bit disrespectful towards you or your new spouse. Try to handle such situation with care and affection, I know that you may be hurt but losing temper will surely worsen the situation.
Go for outings and holidays with your new family and spend ample time with your child. Spending time with your child and spouse will greatly help in understanding and accepting each other. This will also help in increasing interaction between your child and spouse and they would surely accept each other.
Never listen to your child's complaints against your spouse until and unless the issue is too serious to avoid. If such is the case arrange a family meeting and listen to both of them before coming to a conclusion about who has been wrong in his attitude. Never be partial and do not fight with your spouse on petty grievances of your child.
Try to strike a conversation with your child about how he feels about his new family and involve your spouse in it. This will help in emotionally connecting with each other which is an extremely important part of starting a new life.
Your child needs love and affection from both the parents and he should get it in every way. Be gentle and careful while handling your child after your second marriage for a blissful family life.