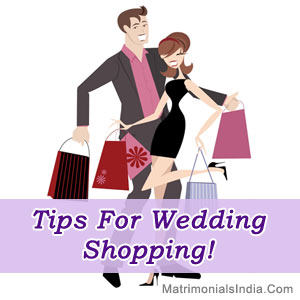 Every person enjoys shopping! And for a celebration as big as wedding, shopping just cant get more interesting! It is one of the most fun-filled parts of any wedding preparation. But, with enjoyment, comes the responsibility of buying all the necessities within the stipulated time frame. So, the couple must ensure that they shop for the right things and in time. To be fully satisfied with your shopping, you must maintain a checklist to assure that all the required things are secured. Also, you must have ample time to buy all the stuff. Time should never be an issue and thus your schedule should be kept flexible. These are the two most important things that you must keep in mind before going for a wedding shopping. Apart from these, other important things that will help u have a good wedding shopping experience are :


Looking For Brides Or Grooms ?
Register here Free and Find Easily
Assign Budget
:
Preparing a comprehensive budget will help you ascertain that all your material is bought within the preset expenditure. Thus, you should assign your expenditure for specific products like gifts, cosmetics, jewelry, household items etc.
Prepare a list
You should always maintain a list of all the things that you need to buy as this will prevent you from missing out any item. Keep in mind the following points in mind while preparing a list :
Make sure you include all the cosmetics, jewelry, clothes, accessories, grooming & personal care products etc. in the list you prepare.
Maintain a separate list for all the gifts to be distributed to the guests.
A separate list for pre and post wedding favors should be prepared.
Wedding is a once in a lifetime experience. Mostly, things are arranged in hustle bustle due to the time frame and wedding jitters. So start preparing early on by looking out for wedding shows, special discounts and online shopping websites to get a good idea. The above mentioned tips should help you adjust everything carefully but don't forget to enjoy the experience. Have a happy wedding!