Tips on Interracial Marriage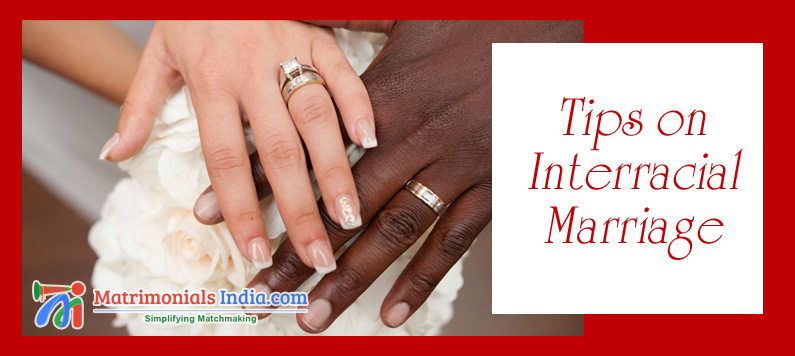 Interracial Marriages not only increase the chances of finding the right soulmate but also help one to know about different cultures and traditions. No doubt that society is becoming very open about their children, peers or relatives choosing a life partner that belongs to some other race, religion or culture. However, there are still many who take dating or marrying across racial lines as a stigma. Interracial Marriage, therefore, certainly calls for stereotypical opinions, prejudices or anger, and the most affected are the couples who are involved in these interracial relationships. Here are a few tips that can help all interracial couples to deal with society in a better way as well as strengthen their interracial relationships.
Understand Your Partner's Culture Understanding the partner in an Interracial marriage is as important as any other relationship. The best way to make your partner feel comfortable with your traditions is to talk about them openly. Ask your spouse questions about his/her culture and also share the beliefs and customs that you follow. Healthy communication about all the cultural differences and similarities will surely help to strengthen the relationship.
Dealing with Unsympathetic Family and Friends Disapproval of Family and friends is the most common problem in interracial dating or marriage. The best way to make your spouse gel with unsympathetic family and friends is to engage them in each other's social life. Try to find out the social events or hobbies of common interest to make them know each other better as a person.
Have a Support Group Even after your sincere efforts, there remains a problem with your parents, family or friends not accepting your pattern heartily, the best resort is to take the help of a support group. This support group can be interracial couples like you or some friends who understand and approve of your decisions. Taking to or simply listening to these people will help your friends or family understand your partner and the relationship.
Following the above-mentioned tips can help couples to present their interracial marriages as a learning experience for all the people around them.